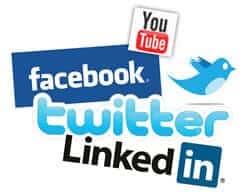 Social Media – More Than Celebutants
Think that Twitter and Facebook are just for celebutants to share what they ate for breakfast? Think again. Marketing is all about meeting people where they are and social media is fast becoming the place where most people around the globe are hanging out. Given that fact, you can't afford to not be participating in the conversation.What is Social Media? If your website is your storefront in the online world, social media is the meetings, the networking, the coffee meet-ups, and parties. This is where technology meets social interaction. It is a way for you to have constant, non-invasive, communication with your audience.
FACEBOOK AND TWITTER
Facebook is ultimately a way for you to communicate what is happening. This can be anything from news articles, industry-related videos, upcoming events for your practice, community service and sponsorships that you participate in, to guest appearances on your radio program. Think about this platform as a newspaper for your company. What would the reader want to know about? What does the reader care about? What is the "lead" that will ultimately bring you more business? This is not a platform for sales, just information to educate people so they can make better buying decisions.
Twitter is similar to Facebook in that it is communicating newsworthy information, but it is more concise and does not foster a conversation. While on Facebook you would post a video of something having to do with your business and ask people what their thoughts are and develop conversation around that piece. Twitter would be just a quick "Check out this video."
Some things that you'll want to do with both:
Establish a Sense of Community — Being active in your community not only provides great networking opportunities — and let's face it, that good "Pay it Forward" feeling — but it also makes people feel like you care. If you are volunteering, tell people about it and invite them to join you.
Forge Relationships — People want to talk to people. Using social media allows you to be accessible and build relationships. When someone comments, write back. When someone follows you on Twitter, return the favor.
Separation of Personal & Professional — Anything you think may be a little ify when it comes to how it will go over with your audience, leave it in your personal account. Your business social media should be focused around building your company, not commenting on last night's lame football game. However, keep what you do post authentic. Basically it is a balance between staying true to your brand and then taking it too far. 
Create Value — Real value is in information and data. Use social media as an informational and educational platform and your value will be evident to all.
Develop Authority — As you are creating value you are also developing the feeling that you are an expert. People want to know that their doctor is an authority in his field and want the same in the other areas of their life.
Provide Support — Be accessible to problems, questions, concerns, comments, etc. Answer all questions and be active in conversations. Customer service is important to everyone, and this is a way to show people that you take customer service seriously.
Reach Out — Don't wait for people to find you on social media; reach out to them. Just like traditional networking, you need to take the initiative to connect with people. This can be done through ads, adding the links to your website or blast emails, or just asking them to come and check out your pages.
LINKEDIN
LinkedIn is social network for experienced professionals. LinkedIn also ranks high on search engine results; so if a someone is looking you up, you can direct them to your LinkedIn profile. How do you use it? Create a profile that acts as your professional profile to the World Wide Web. A LinkedIn profile is more than just a resume. You can add content like presentations, link to your website, blog, or Twitter stream. The experience section should discuss your career experience, while the summary should be where you talk about who you are, what you and your company brings to the table and how you are different from other financial professionals. You can also create company pages on LinkedIn and it is a great way to share blog more of that educational content that we talked about with Facebook and Twitter.
WHAT'S IN IT FOR MY BUSINESS?
What's the benefit? (1) Low cost, (2) control over what people see online about you in that, (3) increase in referrals, (4) search engines — like Google — LOVE to see social media and will rank you higher on searches, (5) constant communication with customers and (6) attract new business by leading the conversation.

Here When You Need Us
Have questions? Looking for more expertise? Ready to take the next step?