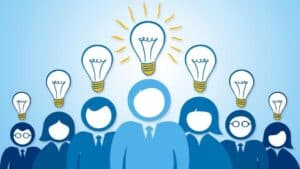 Anyone who has ever launched a startup can tell you that there are hundreds of balls in the air all at once. It is one of the most important juggling acts that any person or team can take on.
Once you settle on the business decisions needed to actually make the launch happen in the first place, you'll need to focus on marketing. A huge part of that is branding. If you make a misstep there, your launch may not go exactly as planned. In fact, a bad showing in that arena may set you back for months or even prevent you from ever gaining the momentum you once had.
Building a brand is never easy, but if you follow these five simple steps, your startup will get a great head start:
Take a Look at the Competition
A big problem with nearly every single startup is trying to figure out how its brand will stand out from the competition. This isn't typically an easy feat, but you can make a lot of traction here by simply checking out your competitors in as much detail as possible. You can usually get a good feel as to how their branding was built, and you can use some of what you learned to enhance your own brand. Don't think of this as cheating or copying — those competing brands did the exact same thing with their own competition when they were merely a startup.
Know Your Target Audience
You'd be surprised at how many startups have such a great idea that "everyone" will love that they don't take the time to learn everything they can about their target audience. Not only is this a mistake, but it can be absolutely catastrophic. You need to know what your audience likes, how they communicate, and where they go for information. Today's consumers are much more techno-savvy than those in the past, and you must learn to capitalize on that.
Don't Forget About Personal Branding
We live in a day and age where the personal brand behind a business is often as important as the company's brand itself. It seems that every week, we hear about another company that's being shunned or boycotted against because their owner, manager, or executive doesn't meet the values of their audience. You want your audience to like you as a person. This will help to ensure your success. And, for god's sake, if you're going to throw someone off a plane, you better have a damn good reason!
Focus on Social Media
Boy, if you had a dime for every time we mention social media in these blogs, you'd… well, you might not even need your startup, because you'd be uber-rich by now. That being said, social media simply cannot be emphasized enough. To today's consumers, social media is your brand. That's why it's important to utilize multiple platforms and engage with your customers on those platforms on a regular basis. Numerous companies are fighting for your audience's attention at any given time, and social media is a great way to keep them coming back to you.
Use Visuals to Your Advantage
A picture is worth a thousand words… human beings are visual creatures… blah blah blah. Yes, you've heard it all before, but that doesn't stop it from being absolutely true. Just look at the world around us. We have selfies, foodie pics, video reactions, and a whole slew of other visual engagements that keep people interested and entertained. If you can make a visual connection with your brand, you'll be ahead of the game.
Would you like to know more about how branding can be used to make your startup stand out in a crowd? The friendly folks at Madison Taylor Marketing can help you with that! Give us a call or shoot us an e-mail today and we'll get started on your new marketing strategy.
Here When You Need Us
Have questions? Looking for more expertise? Ready to take the next step?