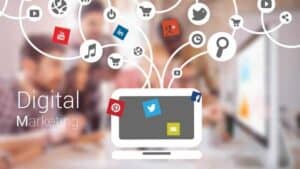 Staying Relevant with Digital Marketing
Whether you like it or not, millenials are ruling the world, and they are NOT the same animal that you're used to marketing to. As the world has grown increasingly accustomed to staying connected digitally and on-the-go, nearly all of the more traditional marketing methods have become irrelevant. Direct mailers? 44% of envelopes go unopened. TV commercials? 86% of people blast right through 'em thanks to new technology. Big, bold, "LOOK AT ME!" website ads? 84% of millenials immediately click out of a site when an ad becomes too intrusive. (Source: Mashable). 
If none of these outbound techniques are working anymore, what is? Well, that's exactly what this post is about. We're going to take a look at what digital marketing actually is, and how you can harness its power in order to stay relevant and thrive well into 2017 and beyond.
Digital Marketing In A Nutshell
Digital marketing is the total opposite of outbound marketing. Instead of blasting a generic message out into the world, hoping that the right people hear and respond to it, you're aiding your prospective customers in the process of finding answers to their questions and needs, and, of course, to you. Today's consumers are going online to find information on specific products, services, and industries, and it's up to you to be there with an answer. This means anticipating the needs and interests of your target audience and creating content that will speak to them on a personal level. When executed properly, this is the most effective yet affordable means of building up your brand.
Digital Marketing Tips
Alright, now you know what digital marketing entails, but how can you make it work for your brand? These expert tips will help you get the most out of your digital inbound marketing campaign:
Go For Organic Search Results
Create content that will interest your readers, and that includes words and phrases that are relevant to their searches and queries. Surrounding these words with engaging, valuable information will boost your SEO organically.
Make Content Sharable
Always include buttons at the bottom of your posts that enable users to "share" your blogs via social networks like Facebook and Twitter. This helps to expand your reach days, weeks, and even months after the original posting date.
Embrace Different Types of Media
Don't get stuck solely on the written word. Digital marketing comes in many different forms, including videos, audio files, infographics, pictures, etc.
Close the Deal With CTAs
Getting people to find and read your content is only half the battle; now you need to close the deal. Don't miss out on any opportunity to obtain customer information or to make a sale via a call-to-action (CTA). Be sure to include special offers at the end of your blog posts in exchange for a reader's name, telephone number, and e-mail address. You can also encourage your readers to subscribe to your blog or to join your email mailing list.
Establish a Trusted Archive
The more you blog, the better. Building up a large archive of useful content will ensure that you remain at the top of search engine results for a longer period of time while simultaneously establishing your credibility and reliability with your audience.
Here When You Need Us
Have questions? Looking for more expertise? Ready to take the next step?