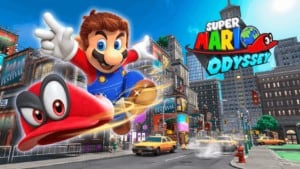 Super Mario Odyssey – Strong Branding
It seems like only last month that we were here discussing how the Nintendo Switch had become a force to reckon with in the realm of marketing. Oh, wait… it WAS only last month. In fact, you won't need a warp pipe to check out that exciting and informative blog – you can simply click right here!
So, why are we back here discussing a Nintendo product so soon on a marketing blog of all places? Well… it's all about the release of the newest Mario game and how this game – Super Mario Odyssey for the Switch – shows us what true branding is really all about. The game releases in only two days, on October 27th, and the kid inside each of us, can't wait. Oh… screw that… the ADULT inside us can't wait either!
Mascot as a Brand ("Let's-a go!")
Nintendo has done with Mario what many companies have done with their mascots – turned him into a brand of his own. In this regard, we're thinking of such things as Ronald McDonald, Mickey Mouse, the Kool-Aid Man, and many others. In each of these examples, the company itself is a recognizable brand of its own, but their mascot (or primary one, in the case of Disney, for example) serves as its own brand. Mario could go into business on his own as Mario, Inc. and probably do quite well as his own entity. That is branding power you can't be given. It must be earned. This is something that you must work hard at. There are no easy answers when it comes to branding, but both Nintendo and Mario have shown that if you have a powerful brand, people will take notice.
Stand Out from a Crowd ("It's-a me… Mario!")
Branding is always meant to help your company stand out in a crowd. To do this, you need to be unique. When people see your brand, whether it's a logo, a mascot, or a mixture of both, it needs to instantly be recognizable in their minds while simultaneously separating you from the competition. Your branding design or strategy doesn't even need to be very complicated. Just look at Mario – an Italian plumber dressed in mostly red and blue, with a mustache and a hat. That's it. (And, yes, for the record, we realize that Mario is officially no longer a plumber… but he'll always be a plumber in our hearts.) In truth, Mario isn't as dynamic a character as other Nintendo creations, such as Link from The Legend of Zelda or Samus Aran from Metroid, but he remains one of the most identifiable characters of all time… thanks to branding efforts.
Change is a Good Thing ("Mamma mia!")
You should never be afraid to make tweaks and changes to your brand as a way to keep up with emerging trends or simply to "freshen up" your brand. If you look back at your favorite brands and their mascots, you'll see that some have made slight modifications over the years, while others have been completely revamped. To wit, the geniuses at Nintendo have proven that they always have something new up their sleeves. When Mario went 3D, it was like a whole new character. Then they said, what the heck, let's give him a bunch of planets to run around on. And now, Super Mario Odyssey allows him to use his HAT, of all things (though, technically it's an ally named Cappy), in a way that is so gloriously innovative that it's almost as if he's being completely reinvented in a single game. So, embrace change and enjoy the results.
Of course, to quote another famous Nintendo series, "It's dangerous to go alone. Take a deeper dive into our resources. Once you've absorbed that, give a shout-out to the experts at Madison Taylor Marketing and we'll devise a marketing strategy to help take your brand to the next level.
Here When You Need Us
Have questions? Looking for more expertise? Ready to take the next step?