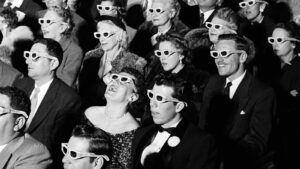 The Best Darn Marketing Content Guide
No one marketing tactic has had quite the impact on content development as inbound marketing. It doesn't seem like all that long ago when marketers were only required to develop content when they had to promote a new product or sale. These days, however, fresh content needs to be regularly delivered to target audiences on the "silver platters" of business blog pages, social media, videos, ebooks, webinars, and more. What's more – this can't just be any content that's been thrown together at the last moment – it has to be relevant, timely, and engaging content. In other words, it needs to be remarkable enough to not only drive traffic to a website, but also to nurture leads and move them through the buyer funnel. Now that's a tall order.
Fortunately, this guide contains all of the ingredients you need to whip up stellar content that will consistently meet your audience's needs while boosting your business. From the start to finish of this multi-part series, you'll discover how to better understand your audience, create custom content, align content with the buyer cycle, schedule your content delivery dates, and more. For now, though, let's just get started with the most basic element of content marketing: knowing your audience.
Chapter 1: Getting to Know Your Audience
Any good content developer knows how important it is to understand who, exactly, he or she is writing to and what makes their readership tick. The process of creating a full picture of your target audience is twofold. First, you must create buyer personas and second, you'll need to develop buyer profiles.
Create Buyer Personas
In short, a buyer personal is simply a fictional representation of your ideal customer. The ideal buyer persona is developed from combining real data pertaining to customer demographics, and online behavior patterns with educated speculation upon the personal background and motives of the buyer. How do you create such a "persona"? You'll start by researching your existing customer base and identifying the most common types of buyers. Be sure to create a separate persona for each type of buyer. The persona should consist of a distinct name, such as "Executive Eric", "Technical Terry", or "Supermom Sarah". This name should give a general but clear insight into who the buyer is, and what may drive them. From here, flesh out the details of this persona type's daily responsibilities, their interests, their business or household income/expenditures, etc. Finally, use this profile information to outline the persona's pains, needs, and challenges. This process can be further enhanced by utilizing marketing analytics that enable you to see exactly which search terms brought visitors to your site, which pieces of content most attracted their interest, and which types of forms they filled out. All of this will make it much easier to understand who your ideal customers are and how best to nurture them.
Develop Buyer Profiles
From here, you'll develop a profile that outlines the online behaviors of each persona type. This pairs the understanding of a buyer's needs with the ways that they actually go about searching for products and services that will meet those needs. When developing such a profile, you'll need to ask yourself:
What do they do online? – Are your buyers reading blogs? Are they active on social networking sites? Do they subscribe to email newsletters? Which search terms do they frequently use?
What types of information do they prefer? – Do your buyers tend to prefer reading educational pieces, or are they more interested in trend articles? Would they rather watch videos and listen to podcasts than read?
Which needs would they like to have fulfilled? – Which of your products/services do thy spend the most time researching?
Fleshing out the answers to these questions will result in a highly detailed description of your persona's demographic, needs, and behaviors.
Chapter 2: Taking Stock of What You Have
After taking the time to carefully construct buyer personas, you may feel tempted to rush off and create brand new content for them. While you'll certainly need to come up with fresh, customized content going forward, you should first take inventory of all of your previous content marketing efforts. The process of content auditing is the best method for determining just how much coverage you've been giving to the topics that are most important to your audience and whether you've been mixing things up enough. You'll have the ability to pinpoint gaps that need to be filled by new content pieces while also identifying your most outstanding and popular pieces that can be fleshed out further and repurposed into other formats for more reach.
The question then becomes, "How do I conduct a content audit?" Fortunately, it's relatively simple. You'll need to gather and review all of the content you've generated in the past year or so. Be sure to include all forms of content, including blog posts, videos, podcasts, etc. Each piece should be logged into a spreadsheet and then labeled according to the content's format, topic, covered buyer persona, and the number of leads created from it.
Ultimately, the goal of a content audit is to see where your existing strengths and weaknesses lay. Taking a look at the big picture will open your eyes to the types of content that you need to create more of, the subjects that have been the most appealing, and any buyer personas that may need more attention. It will enable you to set worthy goals that will push your business forward through amazing content.
Chapter 3: Fitting Content Into the Buyer Cycle
Upon completing your content audit, you are well aware of the holes that need to be filled as you move forward with development. In addition to ensuring that you are supplying the right type of content to the right buyer personas, you also need to ensure that you're creating messages that apply to the various stages of the buyer cycle that individual readers may be going through. Typically, the buyer cycle consists of four stages. Awareness is the first stage, where the prospect comes to realize a need for your product or service. Next, they enter into the research phase in which they begin to look for potential solutions. Third, the consumer will pass through the comparison stage, at which time he or she will take a closer look at their options and narrow down their list of vendors. Finally, in the purchasing stage, the prospect will make a buying decision.
Your job as a marketer is to be aware of the types of content and mediums that are best suited for each stage. Perhaps you'll find that those in the awareness stage are most interested in videos, whereas those in the research and comparison stages prefer ebooks and webinars. Whatever the case may be, you need to pay attention to what's working best at each stage in order to keep your readers moving through the cycle.
Chapter 4: Planning
Even the best writer and/or marketer in the world, though, will fall short of their sales goals if they don't have a good schedule mapped out for posting their content. Timing plays a significant role in content marketing, and as such, you need to understand when and where to post for maximum reach. This will require you to set up an editorial calendar, or a "roadmap" for content creation and sharing.
In part three of our series, we'll dive into this crucial phase. The following seven steps will walk you through how to take advantage of this part of the process:
Step 1: Create a Google Calendar or Spreadsheet
It's wise to use a format that you are comfortable working with, and that will enable you to create editorial plans that extend at least three months into the future, if not more.
Step 2: Work Backwards From Your Marketing Goals
Keep your goals regarding traffic, leads, and converted customers at the forefront of your mind. From here, analyze previous marketing efforts to figure out how many individual pieces of content were historically required to reach those goals.
Step 3: Fill Calendar Dates with Specific Publishing Tasks
Based upon your goal-related publishing needs, fill in your calendar dates that indicate when blogs or social media accounts must be updated, videos should be uploaded, webinars should be hosted, or podcasts should be recorded and shared. For each date, you should also list the topic and title of the piece, as well as the targeted persona.
Step 4: Fill in the Details
Don't forget to make note of the SEO keywords you plan to use, the stage of the buyer cycle you are targeting, the CTA, and any other applicable details that need to be addressed during creation and publishing.
Step 5: Add Relevant Holiday and Event Dates
Are there specific holidays, seasonal events, sales, etc. that could create good hooks for specific marketing topics? Make note of these so that you can customize content to cater to these opportunities.
Step 6: Spread the Love Where Possible
Do you have content that could be spread out or repurposed over an extended period of time? Take advantage of this time-saving technique.
Step 7: Keep Tabs On Things
Organize the types of content you publish by creating tabs. This will enable you to see how much of each type you have posted so that you meet all of your goals.
Voila! It's really as simple as that. Upon completing these seven steps, you'll see that the majority of your calendar is filled up with detailed outlines for content creation and posting. Never again will you come into work wondering what needs to be published in order to achieve your marketing objectives. With a full monthly view of the types of content that need to be generated and shared with your audience, you'll always know what should be done and what to expect. Your calendar will also enable you to look back on the types of content that you've already covered so that you don't post too-similar topics close together, or forget to follow up on a popular or relevant blog article.
Chapter 5: Creating Engaging Content
Even with all of this vital information, though, you may still find yourself struggling to come up with relevant content that is also fun and practical for your readers. The final piece of the puzzle involves familiarizing yourself with the techniques that marketing pros use to inspire them to develop fresh, exciting content week after week. These useful tips should get your creative juices flowing.
Stay Current with Industry News
Your industry is constantly evolving, and it's important for you to be plugged into any changes and developments in order to provide timely content. It's simple to subscribe to blog feeds, niche publications, newsletters, etc. in order to follow what's going on in your little part of the world. You might even keep an eye on your competitor's blogs or set up Google Alerts for notifications on new content that pertains to non-branded industry keywords.
"Listen" to Social Media Conversations
What's making your target audience "tick" today? Social media offers you the unique advantage of being able to "listen" to a real-time feed of what your customers are talking about, what's trending within your industry, and any specific needs that consumers might have. By staying active on Facebook, Twitter, LinkedIn, etc., you might notice that customers have a lot of questions about a certain product, or how to accomplish a task that your brand could help with. From here, you can create blog posts, videos, or ebooks that address these inquiries.
Breathe New Life Into Existing Content
Did you post a video or write a blog that happened to attract a lot of interest? There's no reason why you shouldn't capitalize on your success and repurpose the core of that content by creating something new. Chances are, after all, that your readership will be craving more information on these subject areas. You might consider taking the information shared in a video or podcast and articulating it in written format for a blog. Popular blog posts can be expounded upon and used as the basis for creating a whitepaper or ebook. And, of course, content that is in high-demand might justify the development of a webinar that will enable you to demonstrate your expertise to your clients.
Don't Be Camera Shy
Developing videos doesn't have to involve a complicated production process. In fact, it can be as simple as recording a response to a question that you read from a customer on Twitter, or sharing the coolest things that you saw at trade show or industry event.
Wrap Up the Year with "Best Of" Features
Newspapers and magazines do it, so why shouldn't you? When the year comes to a close, look back to your most popular posts in order to create a "Best of…" ebook compilation for your readers. You might also highlight the best industry products or developments of the year, etc.
While this list of awesome tips for creating unique, engaging content will certainly help you to get the ball rolling, it is by no means a comprehensive list of ways to draw inspiration for your marketing campaign. Keeping an open mind and thinking outside of the box (while still staying true to your audience's needs and interests) is the key to content marketing success.
Here When You Need Us
Have questions? Looking for more expertise? Ready to take the next step?