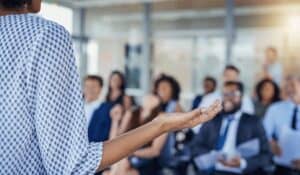 The Challenges of PR in the Digital Age
First things first: what is PR? We all know that it stands for "public relations," but how is it any different from marketing or branding?
PR defines how your company communicates with people. It's similar to branding, but the overlap isn't 100%. While branding relies more on visual elements like colors, logos, and fonts, PR is all about communication, voice, and reputation.
In the digital age, though, news travels fast and reputations can change overnight if you're not careful. PR isn't just about press releases — you've got to be on your toes. Here are some challenges your PR department will be facing and, more importantly, how to deal with them.
Keeping Your Credibility Up
In the pre-Internet days, getting your message on a media outlet was hard work. You had to compete for airtime or newspaper inches with dozens of other PR people, so media publishers were very careful to vet your claims for accuracy, professionalism, and accuracy.
Now, anyone can publish a message at any time, about anyone, to an audience of thousands or hundreds of thousands. Clickbait, fake stories, and imposters pretending to represent major companies have hurt the credibility of of promotions that utilize PR — consumers are skeptical of any sponsored messaging at all.
As a small business, you need to be constantly keeping up your believability. You can include your own credentials and background, get third parties to back up your messaging, and offer statistical data like studies, facts, and figures to support your claim.
Tracking Your Reputation Across Channels
There was a time not so long ago when newspaper, TV, and radio were the only ways to reach your audience, and on the phone or in person were the only ways for your audience to reach each other. That's all changed now.
Not only are there dozens of different media and social media websites where PR professionals can reach out to their audiences — text messages for younger people, email for their parents, newspapers for their grandparents, and so on — but people will be talking about you in many different places too.
Obviously, you can't listen in on private correspondence — if a customer texts his girlfriend about how frustrated he is with his cable provider, you won't see it — but you should be watching for mentions of your company and brands even on channels you're not actively using.
Just because your company doesn't have a Twitter account, for example, doesn't mean people won't tweet about you — and it can spiral out of control if you don't reach out to the frustrated party quickly.
Set up Google Alerts for your company and brand names to see when you come up on websites and blogs. For Twitter, software like Twilert or IFTTT can help you keep an eye on what people are saying about you. Not every mention will warrant a response, but you really don't want complaints or questions to go unaddressed.
The Rise Of Fake News
You've heard the phrase everywhere, but it's a real problem. Fake news sites are pervasive, and they don't appear to be going anywhere.
Some mimic real news sites with clever tweaks to the URL or logo, some appear to be their own news organizations, and some are sloppy satire, but the fact remains that they can have a huge impact on your reputation even if what they're saying is blatantly false.
Take a look at Nike's recent decision to make Colin Kaepernick the face of their newest campaign. Obviously, they knew they'd be alienating a certain demographic by doing so — Kaepernick has been a controversial figure for years — but fake news about Nike has been rampant in the aftermath.
Of fact-checking site Snopes' "Hot 50" stories, 15 of them currently relate to Nike or Kaepernick. Some are relatively innocent — a man burning his feet when he sets his shoes on fire in protest — and some are more pernicious — Michael Jordan resigning from the board and taking the Air Jordan brand with him.
You probably don't have the visibility of Nike to worry about, but even small rumors or bad reviews started by disgruntled customers can be harmful. You'll need to decide whether they're worth addressing and how.
How Do You Pitch A News Bot?
Editorial teams are shrinking, and that means fewer journalists to talk to — and those that remain have less time to pick up the phone or answer emails. From Buzzfeed's Buzzbot to Reuters' News Tracer, bots are playing a larger and larger role in finding, curating, and distributing stories.
Not only can the bots help editors cover a wider audience, but they can dig deep into particular niches and be on call 24/7 to supply the public's constant need for content. Since there's no one to talk to about your stories, you need to understand how the bots work in order to be discovered.
Newer, Stricter Data Collection Regulations
The GDPR passed earlier this year, and we're already seeing changes. We've talked before about the impact of the GDPR on digital media, but its reach will cover PR as well.
The GDPR's opt-in and consent laws mean that the only way you can maintain a relationship with your customers is through direct engagement that the customer has already agreed to — no more sending emails to people on a list who didn't sign up.
Press lists will have to be kept up to date with zero margin for error. Opt-ins will have to be verified manually. Companies who have been passing around a list of media contacts on sheets of paper for the last few years will be dragged into the digital age whether they like it or not.
PR Isn't Dead
Every time something in the world of marketing and PR changes, someone will be quick to herald the death of the industry. Don't panic, though. PR at its core is simply how you interact with and communicate with your customers, your broader audience, and the public. That will always be necessary.
Sure, there may be more media channels and a few more minefields to tiptoe through, but if you're flexible, attentive, and adaptive to the new rules and norms of the PR world, you'll make it through just fine.
Here When You Need Us
Have questions? Looking for more expertise? Ready to take the next step?