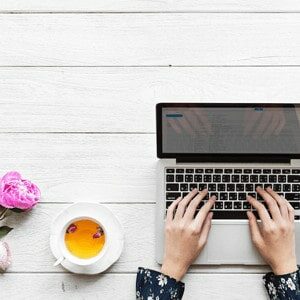 The Fast Four" Blogging Tips"
It'll come as a shock to exactly no one when we say that we love blogging… love, love, love it! Not only does writing up a blog get our creativity flowing, but the advantages of drawing in new customers and giving current customers a reason to stick around simply can't be denied.
While in the middle of writing a blog last week, we realized that it had been a while since we had given some quick, simple blog writing tips that everyone could use. There are tons of options out there – several of which you can find on last year's blog series – and here are four of our favorites:
Casual Writing is Where It's At
Read just a couple of our blogs, and you'll quickly realize that we're huge fans of casual writing. While we discuss ideas, processes, and best practices that can have serious impacts on your business, the tone itself doesn't have to be serious and stilted. After all, we want you to enjoy reading our content – not have to gut through it! And even if you're in a business that caters to professionals, lightening up a bit will go a long way to making the blog more accessible to the masses. Just be careful that you don't get *too* casual for your industry – cursing, for example, might not be acceptable to your readers.
Post Consistently
In this crazy world of ours, it's easy to get distracted and let things slide. Perhaps you have too many weekly meetings and the last thing you have time for is to write up a new blog. Or maybe crafting a blog after-hours will cut into your Netflixing and/or chilling time. Well, if you're going to write a blog that people can rely on, then you must learn to post on a consistent basis. If not, visitors to your site won't be able to count on it as a reliable source – which means they might go elsewhere. If you don't have time each week, the best thing to do is hand over the duties to a professional marketing company (like a certain someone we know).
Make a List and Check It Twice
As you can tell from this blog and most others we've ever posted, we are huge fans of making lists. This technique is a great way for you to provide tips and tricks, of course, but also serves as the perfect technique for disseminating facts and information in an easy-to-read, uniform manner. The sub-headers should be (relatively) short and to-the-point so that readers can quickly find what they're looking for right away.
Proofread the Darn Thing
We're the first to tell you that we're not perfect when it comes to typos – and that's okay. The human mind is funny – sometimes, when you know what something is *supposed* to say, your brain fills that in so that when you read it, everything looks right even when it's not. That's why duplicated words, like "the the" in the middle of a sentence, are often missed by readers. The solution here is to have a second person proofread every blog before it gets posted. Mistakes will still happen from time to time, but you'll definitely see an improvement.
Do you want to add a blog to your website but you just don't know what to write about? Or do you simply not have the time to dedicate yourself to a consistent posting schedule? Give a shout out to the professionals at
Madison Taylor Marketing
, and we'll
get you started
with blogs and so much more.
Here When You Need Us
Have questions? Looking for more expertise? Ready to take the next step?