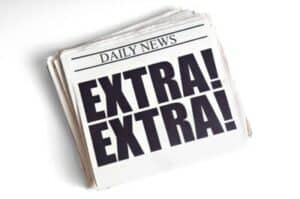 The Marketing Report: Rolling into Summer
Why Social Media Listening is Important for Brands
We all know how to talk – especially about something that we are passionate about, like our business. But sometimes, you have to shut up and listen. It is amazing what your customers will tell you if you simply ask, and how that can translate into profits. In this great article, you'll see why you need to be listening and case studies on how listening has affected other brands. Check it out here!
5 Questions That Will Close the Sale (Without Pressuring Customers)
We are loving this article (and of course, the advice) in this article from the folks at Inc. Customer centric marketing and selling are what we are all about, and this offers a step-by-step guide on just what to ask so that you can close a sale. Put your power suit on – you are going to rock this.
Now Updated: The Periodic Table Of SEO Success Factors
Ever wonder what the formula is for search engine optimization AWESOMENESS? Well, this article/ infographic spells it out for you in a format we are all comfortable with. By following the table, you are on your way to creating SEO to rock your business.
2 Sentences That Engage Customers
This article highlights what we preach to our clients all the time – focus on who you are selling to, not on you. Because here is the thing, we don't give a crap about how many years you've been working at that big company, that you went to Harvard, that so and so big shot invented what you've got, or the geek language surrounding how it works. We want to know how what you've got is going to affect US. Simple as that. Your marketing and sales needs to focus on the customer.
What a Great Homepage Does to Hook Customers
A great website is a necessity for business today, but that home page is where you have about 8 seconds to hook the person visiting to dive in, learn more, and start the sales process. This article will point you on your way to creating a home page that will hook in new customers, and create a splash for your brand. Ready to go fishin'?
Here When You Need Us
Have questions? Looking for more expertise? Ready to take the next step?