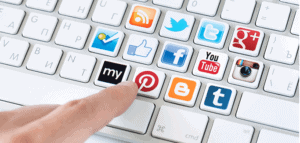 The Roles of a Social Media Community Manager
Managing social media is a full-time job! Much more than simply re-tweeting at random or posting photos of your latest projects, a business' social media community manager has to be a jack-of-all-trades, deploying a wide range of skills and wearing multiple hats on a daily basis. After all, it's only through a multi-dimensional approach to marketing and consumer engagement that you can expect real results. So what all goes into social media marketing, and what is your social media community manager doing, exactly? This post will highlight all of the roles that your social media community manager takes on each and every day.
1. Content Creator
To be successful, a social media community manager needs to be able to create and adapt content for multiple social platforms, including Facebook, Twitter, Instagram, Pinterest, Vine, Periscope, and more. This means not only having the ability to develop unique content from scratch and identify relevant content to share, but taking the time to customize and format content to meet specific social requirements and expectations across diverse networks in order to reach individual communities of consumers.
2. Marketing Analyst
Marketing roles and efforts are becoming increasingly data-driven, and a good social media community manager knows this. He or she must have the ability to really dig into the data, analyze it, and draw actionable insights that will enable them to streamline their efforts for improved results. This includes analyzing and interpreting macro data that pertains to overall reach, lead generation and nurturing, customer case management, etc., as well as micro data, such as unique experiments surrounding content positioning. All of this allows for better-informed and smarter decision-making.
3. News Junkie
Whenever something happens in the news, you can bet that it will instantly explode all over social platforms, and your social media community manager needs to be on top of the story right away. He or she should constantly be keeping an eye on the pulse of your industry and should be thinking of ways that other major news events can tie into your business. Capitalizing on what's hot in the moment will keep your business fresh and attract more customers.
4. Customer Service Representative
Your social media community manager essentially acts as the voice of your business to existing and potential customers alike. As such, he or she must have the ability to constantly provide helpful answers to questions and respond to comments — both good and bad. As such, he or she must be able to effectively communicate with others in a way that will reflect positively on your brand at all times.
5. Community Manager
It's in the job title, so obviously a good social media community manager is able to effectively create, connect, and manage communities on social media. This means not only getting customers to engage with your brand, but also with each other. This is what develops a solid fan base for your business and allows you to expand your reach faster, more efficiently, and more organically than ever before. A social media community manager accomplishes this by sparking and facilitating conversations that bring a community together.
6. Funnel Marketing Manager
Social media community managers must interact daily with consumers who are situated in all stages of the buyer cycle. As such, he or she must possess the ability to draw new readers in through the top of the funnel and then nurture them all the way through the marketing funnel, including lead generation and buyer conversion.
Phew! We're exhausted just thinking about all that your social media community manager does for you on a daily basis, but the results make it all worthwhile.
Here When You Need Us
Have questions? Looking for more expertise? Ready to take the next step?