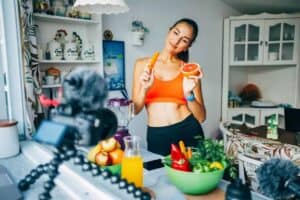 False Myths of Video Marketing
Social video is super hot right now. More and more people are watching video content on platforms like Facebook and Instagram than ever before, and they're engaging with and sharing that content with their friends. As a result, a growing number of marketers are upping their video marketing budgets, allowing for the creation of unique and informative video content, as well as for the time and resources to host high-quality live video streaming. Because social video is such a big deal right now (and isn't likely to go anywhere anytime soon), we've decided to clear the air and debunk a few common myths about the process of creating and sharing video content on social platforms.
Myth #1: Quality Videos Demand Expensive Equipment and Editing
Many small and medium-sized businesses shy away from social video marketing because they fear that creating shareable videos means spending a ton of money on fancy equipment and professional editors. We're here to tell you that (thankfully) this is not the case. Tons of DIY platforms exist, such as WeVideo and Promo, which make it extremely simple for novices to create a professional-looking final cut for your video on a low budget. You can even add your brand's logo and your own unique text to videos in order to add a personal touch and maximize the impact of your videos.
Myth #2: Mobile-Friendly Videos Have to Be Vertical
By now, you're well aware of the fact that the content you produce needs to be optimized for mobile. After all, a large percentage of your customers will choose to access your website, blog, and social media pages via mobile devices like smartphones and tablets. As such, many marketers have believed that in order to be successful, all social videos should be produced to display vertically in order to better fit smartphone screens. Facebook recently debunked this myth, though, when it recommended that brands ditch vertical frames for square frames in order to achieve superior performance on all types of screens. In fact, square videos are actually much more likely to be watched to completion than others.
Myth #3: YouTube Is Dead
Due to the fact that so many people watch videos on platforms like Facebook, Twitter, Periscope, Vimeo, Snapchat, and Instagram (just to name a few), it's not too hard to see why some businesses have mistakenly come to believe that YouTube is either dead or dying. This just isn't the case, though. In reality, YouTube is still the reigning king of online, self-serve video distribution, with more than 150 million unique visitors and viewers each month. When you compare this to Facebook's 94.6 million, it becomes clear that YouTube has not been replaced. As such, it's important to remember YouTube when creating and sharing video content. Be sure to distribute your videos to multiple platforms at the same time in order to maximize your reach.
Myth #4: Videos Should be Under 3 Minutes Long
We all know that the human attention span is continuously diminishing. As marketers, we have to work hard to capture the attention of our audiences quickly, make a point, and inspire action. It has frequently been suggested, then, that video content be kept as short and sweet as possible. While short videos certainly do have their place in the social world, however, that doesn't mean that longer videos can't also be successful. If you create truly inspirational, helpful, and engaging content, you can get viewers to stick it out – and when they do, you'll know that they're really into you.
Have social video marketing myths been holding you back? It's time to start taking action and getting your brand's name out there with high-quality video content. Give us a shout for the most accurate information on social video marketing, and for help in mapping out your own unique strategy.
Here When You Need Us
Have questions? Looking for more expertise? Ready to take the next step?