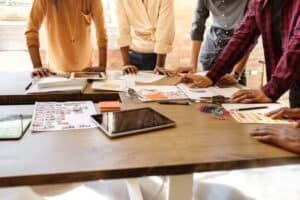 How a Great Website Can Impact Your Brand
Welcome to the age of communication! The amount of ways that we have to reach out and connect with each other these days is truly remarkable. Voice calls, video chats, text messaging, email, blogging (including video blogging), social media, and live streaming are just some of the many mediums through which we can express our thoughts and share our ideas… so, why are so many businesses not taking advantage of these technologies?!?!?!
If yours is one of the many small to mid-size businesses that isn't using various communication platforms to the fullest, it's time to start. The web content that can be produced via many of these mediums can significantly increase the amount of qualified leads that are driven to your site, leading to a huge boost in sales. The following tips for generating website content will help you communicate with your audience in new and exciting ways that will absolutely crush your competition.
Begin With the Basics
If you haven't been communicating via web content already, the idea of starting from scratch can be extremely overwhelming. Don't panic. The best place to start is with some cornerstone pieces that will pique the interest of your consumer audience, that will remain relevant over time, and that you can refer back to when you get stuck. Whitepapers and ebooks are great examples of cornerstone content. These will become the building blocks or resources that you use when developing all other content.
Choose a Platform
Maintaining a regular company blog is a great way to stay in touch with your consumer audience and put fresh content out into the internet universe in order to keep your search engine rankings high. In fact, Hubspot recommends that you should be putting out a new blog post nearly every day of the work week (three times is optimal, we believe) in order to keep your audience engaged and excited. For best results, you need to choose a blogging platform that will allow you to meet your goals. Look for platforms that track your daily stats and can help you pinpoint which types of content are resonating with your audience the most. You should also look for services that will allow you to expand your reach by allowing users to subscribe to your blog via email, or that allow you to share your posts instantly to social media.
Socialize
Speaking of social media… you need to have a strong social presence. This doesn't mean that you should be spreading yourself thin over every platform that's out there. Instead, figure out which mediums your consumer audience is engaging with and set up shop there. In addition to having your blogs automatically posted to your social accounts, make sure that you're posting fresh ideas, thought-provoking questions, humorous observations, and other relevant tidbits that will spark conversation and keep your audience engaged.
Buddy Up
There's strength in numbers, and that sentiment is especially true in the world of content marketing. Consumers are much more likely to trust your content when it's getting the stamp of approval from key industry influencers that have already established their credibility. Take the time to seek out the bloggers, vloggers, and other influencers that your target audience is engaging with. From here, reach out and ask if they're willing to do a guest spot on your blog or if you can guest blog on their site. Share and promote their content and get them to return the favor. Your efforts will go a long way.
Do you need some help improving communication and taking your content marketing strategy to the next level? Let the experts at Madison Taylor Marketing be your guides! Give us a call or email us for more information today.
Here When You Need Us
Have questions? Looking for more expertise? Ready to take the next step?