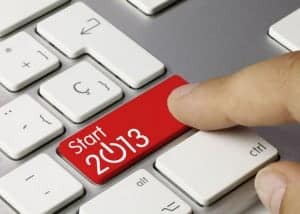 Time for Business Resolutions
Christmas is just a few days away. The stocking are hung by the chimney with care and we're ready for jolly old St. Nick to visit. Before we know it New Years eve will be upon us and then the new year's resolutions will be in full swing. So what are your resolutions? If you are like me, you're business goals are right up there with loosing 10 lbs. Once you establish what your goals are it's time to pull up your sleeves and put in the work. To get you started, here's my plan on how to do it.
Write it All Out
Start by writing down all of your 2013 goals. If you are visual like me, find some pictures to add to your office. Having the constant reminder of your end goals will provide the motivation that you need to get you through the long months until next Christmas. It also keeps you on a path. As you are making decisions throughout the year, refer back to your goals. Does the outcome of your decision help you get to your goals?
Share Your Vision
Once you establish what your 2013 goals are, share your vision with your staff. Communicate where you want to go and provide an open forum for them to share their ideas on how the company can get there. Once you are all on the same page and working toward a common goal you can all stay the course and take pride in all of the accomplishments.
Take the Time
Our lives are busy. There is no denying it. It is all too easy for us to become overwhelmed and take the "shoot now, aim later" approach to things. Don't! Take the time to stop and think. Really analyze your decision making and ensure that what you're doing is in line with your end goals.
Build a Foundation
If your goal is to increase sales, that is going to require bringing on more staff, expanding office space and putting systems in place to deal with the increase. If there is one thing that I learned long ago, it is make sure that you have a foundation in place to handle growth. If you don't your company will crumble from within and you'll loose credibility with your customers.
Take Out Your Thinking Cap
So how are you going to increase sales in a down economy? Be smart and efficient. Take a look at all aspects of your company. Get someone to do the same with you from outside of the company so that they have an objective view on how you can do things better. Review all of your processes. Could an accounting procedure be more efficient and cost-effective? Review your annual budget. Think smarter about what you're buying. Could you go digital and save on the cost of paper? Would hybrid vehicles save your bottom line when it comes to fuel?
Think of it as an Investment
The other budget that you need to review is your marketing budget. Think of this budget as an investment instead of an expense. This is the life vein to your business. Review all of your campaigns from 2011. What worked? What failed? What medium does most of your business come from (if you are not tracking how customers find you, start NOW)? If you want to grow sales, you'll have to spend some time and money getting those people through the door.
Get an Expert
Another lesson learned long ago, don't try to be an expert at everything. I am not a CPA. I am not an IT sherrif and have no idea what my servers should be or even how they function. I just want my computer to work when I turn it on and my accounting to be done to perfection. How we get there, that is up to the experts. Recruit an expert to help you. Partner with people who are experts in what they do and it will help you succeed.
If you would like to work with our experts on your marketing endeavors, give us a shout. We'd be happy to go through your marketing plans and give you ideas of how to reach your 2013 resolutions.
Wishing you a Merry Christmas and successful New Year,
Aimee Meester
Chief Marketing Aficionado
Here When You Need Us
Have questions? Looking for more expertise? Ready to take the next step?