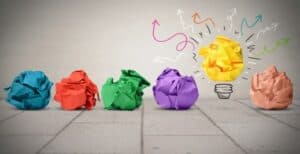 Time to Get Creative with Snapchat
We all know the power of "go-to" social media platforms like Facebook and Twitter, but there are several others that deserve attention. Snapchat is one of those platforms that can often be overlooked. When utilized properly, however, Snapchat can provide your business with a much-needed shot in the marketing arm, so to speak.
So, how can you use this social media powerhouse effectively? The trick is that you must get creative if you hope to make an impact with Snapchat. We'd love to help you get off on the right foot, so we've compiled some quick creative tricks that will take you to the next level.
Add Geofilters to Your Videos
Snapchat users absolutely love to see videos from places they can't visit themselves. Geofilters provide your company with a way to spruce up the video you're recording with a cool graphic that appeals to viewers. You can even submit a personalized geofilter that incorporates your brand to Snapchat, which makes it even better. And, as a bonus, it will improve your "cool factor", which is always a plus.
Use Event Tags When the Occasion Calls for It
This Snapchat option gives viewers the same kind of excitement they get from geofilters. An event tag will take your viewers to gatherings that they otherwise wouldn't be able to attend. What this does is provide both potential and existing customers with an experience that is as close as they can get to actually being there, which will further adhere them to your brand. It may even be a good idea to attend certain events with the sole purpose of tagging people to it.
Utilize the Power of Emojis
These days, we see emojis almost everywhere we go, whether we're online or in the real world. Love 'em or hate 'em, they are likely here to stay. That's because they can be used to provide a kind of short-hand when expressing excitement or as a way to personalize an experience. Emojis can now be seen in many marketing campaigns, which means that incorporating them is a great idea if you want to appeal to today's clientele. Use them with Snapchat and you'll find that people are more engaged with your company. Just try not to overdo it.
Opt for the Use of Text
There are plenty of situations where Snapchat users can't have the volume turned up in order to enjoy a video. This is why the use of text is becoming increasingly popular with this particular social platform. With text, you also have the advantage of adding context to photos and videos that you send out, allowing you to properly convey your message and provide more specific information to your customers. This means you can convey your message no matter where the viewer is when they receive it.
Add Proper Bitmojis for Extra Flair
This particular option is all about personalization and humor which is something that today's customers love to see from their favorite brands. Bitmojis are a series of themed avatars for you to choose from that have the potential to enhance the message you're sending out. You can choose from images based on the days of the week, popular sports, a variety of emotions, and countless others. The options are nearly endless and will really help your Snapchat presence stand out.
Are you interested in learning more about how Snapchat can become a part of your business? Or are you searching for other techniques that will help your business finally break through the elusive marketing bubble? Madison Taylor Marketing can help you find your stride and take you to new heights. Click here to learn more about how we can help you succeed today.
Here When You Need Us
Have questions? Looking for more expertise? Ready to take the next step?