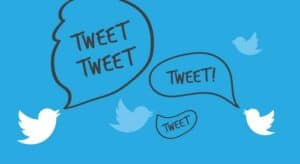 At one point or another, we've all said the wrong thing to someone or have said something downright embarrassing. If you were lucky, no one overheard you make the inappropriate or incorrect remark, but if they did, you'll probably hear about it later. Even so, this isn't nearly as bad as saying the wrong thing on social media. If you make a mistake in person, it's easy to repair the damage and move on.
After a brief time, people forget about the error and it becomes a thing of the past. Not so online. Saying the wrong thing on Twitter, for example, could haunt you for the rest of your life. Even if you delete the comment, there's a good chance that someone captured a screenshot and the horror will live on. As a result, it's extremely important to be conscientious about what you say on Twitter. 
To empower you to tweet with dignity, we've set forth some guidelines for operating within the Twitterverse:
Rule #1: Remember That You Have the Power to Choose
If someone tweets a negative comment about you or your business, your natural response may be to fire right back with a snappy or hurtful remark, but this could create even bigger problems for your company. Being perceived as mean or rude can cause you to lose customers. Remember that you don't need to fall into the trap of a Twitter argument; you have the power to choose to rise above the situation and answer in a way that is fair and diplomatic. To make sure that you're tweeting professionally, take a moment before hitting the tweet button to consider whether or not you'd want the entire world to read your message. If not, you'll need to rethink your post.
Rule #2: Have a Purpose
People value their time, and they don't want to waste even a moment on nonsense. It's important, then, to ensure that every single one of your business tweets has a purpose. Tweeting for the sake of tweeting without having anything useful to say will turn your readers off and prevent them from following your posts.
If you're just starting out, we'd strongly recommend that you take some time to simply "listen" to other Twitter conversations without saying a word. This will help you to gain a better understanding of how the Twitterverse works and which conversations are gaining the most interest from your target audience.
Rule #3: Realize That It's Not All About You
The secret to connecting with customers via Twitter is to be more interested in learning about your consumer audience than talking about yourself. Firing off an endless stream of tweets about you and your company is uninteresting to readers and isn't very helpful. Twitter is about starting conversations and engaging other users. Be sure to respond to others' tweets, use your account to ask questions, and get to know your readers better.
Rule #4: Don't Tweet Anything You Wouldn't Want Your Mother to See
Posting something inappropriate can really turn your clients off and cause you to lose a lot of business. To avoid saying anything embarrassing or rude, we suggest that you think about your mother. What would she have to say about what you're posting? If you wouldn't want your mom to see your tweets, chances are that you shouldn't be sharing them to begin with.
In addition to these rules, here are a few topic you should avoid when tweeting:
Politics
Religion
Anything sexual
Wild nights out
Derogatory remarks about competitors
Negative comments about angry customers
Here When You Need Us
Have questions? Looking for more expertise? Ready to take the next step?