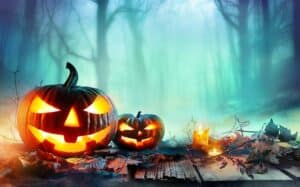 Spooky Tips to Improve Your Inbound Marketing
It's fall, y'all! That means warmer clothing, pumpkin spice everything, and, of course, Halloween! As popular as the wintertime holidays are, Halloween has quite a following, and that makes this a prime time to have some fun with your marketing strategy. Major brands from all across the country enjoy scaring up more business with unique marketing tactics – from holiday products to seasonal pranks and everything in between. Here's a look at some of the most successful Halloween marketing campaigns in order to get your creative juices flowing.
Repeat Seasonal Products
Everyone knows that Halloween is coming when certain seasonal products start showing up in the stores. Cereal favorites like Boo Berry, Count Chocula, and Franken Berry show up on store shelves. Oreos are suddenly filled with orange frosting… and who can resist picking up a pack (or five) of those when the orange filling will only be around for a limited time? Then, there's the pumpkin bread, pumpkin-flavored coffee creamer, pumpkin lotions, pumpkin candles, and pumpkin… well, just about pumpkin everything starts appearing! A large part of the reason why people go so crazy for the pumpkin spice phenomenon is that it only comes but once a year, and a sentimental feeling is tied in with it. Bringing people's emotions into your marketing campaign will give you a huge boost of business during the Halloween season.
Bone-Chilling Pranks
Big brands have been known to enjoy the more frightening side of Halloween by pranking their customers and then sharing viral videos.
Ford – Back in 2014, Ford hired actors to dress up like monsters and scare people while test-driving their vehicles. The results were hilarious, and the video went viral.
LG – LG also scared up some Halloween fame for itself with a prank video in 2012. LG wanted to demonstrate to the world just how realistic and life-like its color monitors could really be. To do this, they created the illusion that the floor of an elevator was falling out right beneath the passengers' feet. Again, the viral video was a huge success!
Benjamin Moore – The paint and stain company often purports that its products work super fast, and are "the quickest way to get projects done right." To prove their point, Benjamin Moore invited painting contractors to use their products for a job inside of a "haunted" hotel that they "couldn't finish fast enough." The prank was humorous, but also proved that the materials work "scary fast."
Games and Apps
Other big brands have catered to the "inner child" in all of us by coming up with seasonally appropriate games and applications. This is effective because Halloween evokes a sense of childhood nostalgia in all of us. One great example of this type of marketing is Target's virtual reality series entitled "The House on Hallow Hill." The series allowed users to utilize their smartphones or computers to explore spooky rooms inside of a haunted house. Of course, strategic Target product placement is used throughout the series.
Dress Your Campaign in a Halloween Costume
If you've got a special campaign or event going on in the month of October, you can use Halloween to your advantage. As an example, the U.S. Department of Energy celebrates National Energy Month every October, and it dresses the entire campaign up in a spooky Halloween "costume." Beyond traditional content, the campaign features Halloween images and gimmicks, some of which have included interactive Halloween energy calculators, a pumpkin carving event on social media, a Ghostbusters-style podcast, a unique Halloween hashtag, and more.
Creating Your Halloween Campaign
Should your brand come up with a silly Halloween prank to play on its customers and share with the world? Should you host a costume or pumpkin carving contest on your social media pages? Should you try to develop a unique and spooky application for the holiday? Coming up with your own Halloween campaign will depend on your brand's unique personality and goals, and Madison Taylor Marketing knows how to assess your needs and develop the best strategy for scaring up business this October. Give us a shout to get started today.
Here When You Need Us
Have questions? Looking for more expertise? Ready to take the next step?