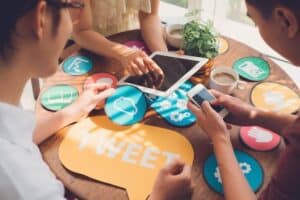 Use Twitter for Deeper Insights
Twitter Analytics first appeared in 2014, signifying a distinctive and effective move toward improved measurement abilities for its users. As the demand for analytics tools has grown, so has Twitter Analytics. The tools have continued to be upgraded throughout the years, and the recent release of analytics for Twitter Moments as well as a standalone app (Engage) have marked the latest evolution in Twitter's commitment to meeting market demands.
Even though these amazing tools give all users better insights into their account metrics, most people aren't actually using them to their maximum potential. Is your business among the many that are missing out on all that Twitter has to offer? We're talking about more than the analytics features that allow you to track promoted and/or organic metrics. With Twitter, you can actually dive a whole lot deeper and learn much more your audience.
Using Twitter Analytics for Powerful Insights
If you haven't discovered Twitter Analytics at all yet, you'll find that it's very easy to access. Simply tap on your profile, scroll down the drop-down menu, and select "Analytics." From here, there's a world of power right at your fingertips. Here's what Analytics can do for you:
Reveal What Resonates With Your Readers
Knowing the types of content, issues, and topics that most interest your audience is the key to social media and content marketing success. After all, what's the point of sharing stuff that no one relates to or cares about? Figure out what's really resonating with your audience by looking at the "Tweets" tab. This will reveal impressions, engagements, and engagement rates for every tweet you post, and for any paid or organic posts. If certain content types are getting a higher response rate than others, you should focus your efforts on these areas. If your audience isn't responding, it's time to try something new.
Understand How Followers Are Interacting With Your Tweets
What makes one tweet popular and get re-tweeted and liked again and again? This is one of the great questions of social media marketers, and you may just find answers from Twitter Analytics. On the Tweets dashboard, you'll be able to take a look at specific date ranges in order to hone in on the times or days of the weeks when you posted your best performing tweets.  This will allow you to post at optimal times for the highest level of engagement.
Know Who Your Followers Are
In order to create content that inspires and excites, it's important to know who your audience actually is. Twitter provides audience data in its "Followers" tab. Here, you can figure out whether males or females are more likely to follow you, where your followers are most likely to live, and what their top interests include.
Figure Out If Your Ads Are Worth It
Many SMBs are experimenting with paid advertisements on Twitter, but it can be challenging to determine whether or not those promotions are actually worth the investment. Twitter Analytics allows you to see how effective your ads are. You'll discover a chart in the Tweets tab that provides a complete overview of all of your paid and organic tweet performance. If your paid posts aren't performing better than your organic posts, you're probably better off saving your money.
Having an active Twitter account is great for your business, but maintaining the account is only half the battle. In order to really succeed with your social media marketing efforts, you need to be able to dive deep with analytics tools and see what's really going on with your account and with your people. As social media gurus, the pros at Madison Taylor Marketing are ready to help you step up your game. Give us a call today.
Here When You Need Us
Have questions? Looking for more expertise? Ready to take the next step?