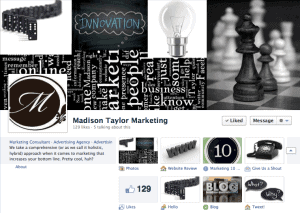 Using Facebook to Generate Business
Social media has certainly made a splash in American culture – everyone we know is on it and shares everything from family photos to music and funny pictures of animals. Businesses are now joining the fun with pages on Facebook, Twitter, LinkedIn, Google+, Pinterest, etc. But there is more to having a presence through social media marketing than just posting content and hoping to get likes out of it. Using the idea of inbound marketing (think of it as using a magnet to attract new business as opposed to a bull horn) you can use your Facebook page to get people to your site, interacting with your company and wanting to do business with you – and here are some ideas on how to do that.
Use The Apps
The tiles that are directly under your cover photo are called "apps". Although you are not allowed to advertise on your cover photo, you certainly can on the apps – so do. Using a service like Pagemodo you can create app plug ins. When someone clicks on an app, it will then take them to a landing page where you can talk up your business and offer something to entice them to visit your website. From there, direct them to a landing page where they can get the offer and you can capture their information for lead nurturing.
Pin It
Have a post that you want to be sure people see? Pin it to the top of your timeline. Simply hover over the right hand side of the post and click on the pen looking icon. Then click "pin to top." Voila.
Direct Traffic
Direct people to come back to your website as much as possible. Add blog posts notifications to your timeline with a link back, add links to special offers, etc. If you are continuing to build out your website with awesome stuff, share it with your audience. Be sure that what you are linking to us quality – so that people want to keep coming back for more – and tell them exactly what to do – click here to download a 10% off coupon for next week.
Have It Both Ways
Although we want people to interact with our websites, we also want to be sure that they interact on Facebook too. Add your social media buttons to every, single page of your website where it is in their line of sight everywhere. This encourages people to interact socially, and when it is on say your blog, it encourages them to share it with their friends. Every aspect needs to work together when marketing, no matter the strategy, so there is no one way street. Social media needs to lend its way to web and web needs to lead to social.
Here When You Need Us
Have questions? Looking for more expertise? Ready to take the next step?