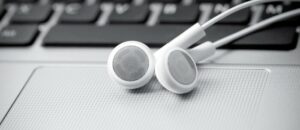 Start a Podcast For Your Business!
So you think you want to start a podcast for your business. Frankly, we don't blame you. Podcasts are an excellent tool for reaching your consumer audience anytime, anywhere. Whether listening to your message while sitting at their desktop computer or via iPod on the road, you have the opportunity to truly connect with people at a time that's convenient for them and, consequently, when they're at their most attentive. Sounds great, right? Before making the mistake of just "winging it" and assuming that your message will appeal to your target audience, though, there are a few things you should know. Follow these guidelines to create an informative, engaging, and effective podcast of your own:

Set the Tone
There are a lot of different podcasts out there, and you need to set your business apart. The first step to doing this involves establishing your voice. Are you going to be more humor-driven or more awareness-driven? Set the tone and be consistent, as this will create loyalty to your podcast.
Keep It Simple
One of the biggest mistakes that businesses make in podcasting has to do with getting far too technical or "sales-y." Remember that the goal of a podcast is not to convince your listeners to make a buying decision right then and there. Instead, think of it as a tool that is designed to enlighten, influence, and teach the audience. Don't push a single product or service, but rather create podcasts that are designed around broader topics that tie into those products and services. This will cater to the interests of your target audience and will inspire them to learn more about your brand and what it has to offer. Trust this process. While it may not seem like the fastest way to make a sale, there's no quicker way to turn your listeners off than to get too granular within your media.
Turn to the Experts
Coming up with fresh, relevant topics for your podcast on a daily, weekly, or monthly basis can be challenging. One smart way to mix things up while giving yourself a break is to dedicate a podcast to conducting an expert interview. This doesn't mean that you have to seek out industry "celebrities" or household names, though. While it would be amazing if you could reel in a big catch like that, you'll find that it's just as effective to interview an employee or even to ask a customer to share their experiences with a product or service.
Be Personable
While it's important to create a script or agenda and stick to it, you shouldn't overlook the value of going "off-script" and ad-libbing. Podcasting enables you to say anything and to be a bit spontaneous and conversational. Did this week's topic remind you of something funny that happened earlier in the week? Share it with your audience! This can help you to create a relatable persona. Just be sure not to go off on too long of a tangent, though, or you may lose your listener's attention.
Make the Connection
Recording podcasts won't do you a lot of good if your family and friends are the only ones listening. You need to branch out and connect with others in order to reach your target audience. The fastest and simplest means of doing this is to make use of digital podcasting services that enable you to link your episodes on social media. Consider also embedding podcasts onto your website's blog and landing pages. This is what will start to build your audience and credibility.
Interested in learning more about starting a podcast? We're here to help!
Here When You Need Us
Have questions? Looking for more expertise? Ready to take the next step?