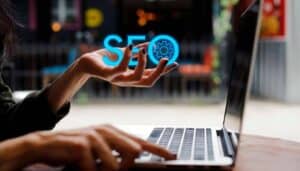 There are few industries as fluid and ever-changing as marketing. Just 15 years ago businesses were considered to be on the cutting edge of the ad game if they had their own website. Soon it became clear that this was no longer enough – instead, companies were required to customize their content to attract web traffic and boost search engine rankings.
These days, though, the increased usage of social media and mobile applications paired with the sophistication of web crawlers make SEO all the more complicated. Now, more than ever, it's important for businesses to know the answer to the question: what is SEO?
SEO At-a-Glance
SEO stands for search engine optimization. Although most people are familiar with the terminology, they may not fully understand what it means. Basically, SEO refers to a variety of techniques that can be employed as a means of pushing your website higher up on organic search result rankings. This makes your website easier to find when users are searching specifically for the types of goods and services that your business offers. Typically this is accomplished through utilizing title tags, keywords, image tags, meta links, internal link structure, inbound links, etc. This doesn't mean that you should just fill your website with a bunch of clutter, though. There's a lot more to SEO than meets the eye, and properly engaging these techniques comes from fully understanding what SIO is and isn't.
SEO IS…
Building Keywords Naturally Around Relevant Content — In the past, many businesses have worked by coming up with key works and phrases that might be used by their target audiences. Blog titles and other content were then developed around those keywords. This can result in unnatural, untimely, or irrelevant information that isn't useful to your readers. Instead, you should be thinking of topics that are likely to matter the most to your audience. By doing so, you'll find that you will actual end up optimizing for important keywords anyway, but without all the choppy awkwardness.
Being Mindful of Your Social Networking Activity — Although this may not have been true even just a few years ago, social media is now a major component of SEO. SEO accounts for who has found your content via social search, including tweets/retweets, Google+ authorship, Facebook shares, etc. In some cases, social search even prioritizes content that has been shared by an an influencer. This means that it's important to connect with your audience so that your content is viewed as important, influential, and relevant.
Focused on Customer Engagement — SEO involves more than just getting users to find your website – they also need to stay on your website and remain engaged with your content. This means that once a visitor lands on your site via a search, you need to be providing them with useful information that caters to their specific needs. In other words, you should be thinking more about the type of content, links, etc. that your audience is looking for more than about how many initial clicks you can get onto your website.
SEO IS NOT…
Keyword Stuffing — It's true that the use of relevant keywords can help to drive web traffic to your site, but this doesn't mean that you should repeat these words and phrases at nauseum. In fact, overusing keywords is more likely to actually hurt your SEO than help. This is because search engine bots and web crawlers will recognize this as keyword stuffing. As a result, your content will be deemed low quality and your website will be pushed down in rankings.
All About Being at the Top — Of course we all want our website to appear at the top of search engine rankings, but don't become overly discouraged if yours doesn't make the top five. In fact, ranking at the top for a term that isn't ideal for your business could be a detriment. Therefore, you shouldn't optimize with keywords just to rise to the top – the words you use should be tailored to your business. You can be equally successful by appearing on subsequent pages if your content is valuable and promotes a high clickthrough rate.
Here When You Need Us
Have questions? Looking for more expertise? Ready to take the next step?