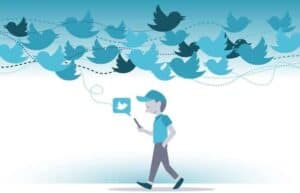 Yes, Virginia, Your Business Should Be Tweeting
It wasn't so long ago that Twitter and its "tweets" didn't really factor into a company's marketing strategy. Heck, many people initially disregarded the social media platform as somewhat silly. After all, who wants to post alerts that are limited to only 140 characters?
As it turns out… a lot of people.
The brevity at the core of the platform appealed to those who wanted to send out quick snippets of information, witty observations, and whatnot. Much like Vine's six-second limit appealed to millions, so has Twitter's limited message capabilities. It didn't take long before Twitter exploded in popularity, to the point where it reached the typical attitude of Facebook users — if you don't have an account, you're clearly not important enough to pay attention to. And when celebrities got into the act, boy oh boy, did it really take off.
How should your business handle its tweets? Here are a few suggestions that you should follow:
Make It Picture Perfect
Human beings are visual creatures, no matter the context. When it comes to marketing, the more often you can integrate visuals into your strategy, the better off you'll be. Adding images when using Twitter has shown to improve the likelihood that your tweet will be retweeted (read: shared). So, if you want to make a bigger impact, images are the way to go. It's an easy way to improve your viewership with minimal effort.
Add Hashtags Strategically
Twitter is where the big push for hashtags began, and it's important that your business keep up the tradition. By clicking on a hashtag, a follower can be taken to similar tweets made by others that have used the same one, and that means adding a hashtag can bring in new viewers via fellow Twitter users. The trick is to use hashtags strategically. It's been shown that longer hashtags — those over ten characters — get more clicks, so start there. Also, don't use too many hashtags in one posting, as that's counterproductive as well. We suggest one or two most of the time, though you can break that guideline for special announcements.
Use Your URLs Wisely
Thanks to Twitter's system, you can add URLs without them taking up too much space, as they're automatically truncated. This means you can advertise a new blog, connect your viewers to articles that might interest them, and whatever else might tickle your fancy. Many individuals and businesses place a URL at the end of the tweet. While this seems logically, Twitter has reported an uptick in retweeting when the URL is placed in the middle of the tweet.
Keep Them Engaged with New Content
If you want to decrease your viewership on any social media platform, being stagnant is definitely the way to do it. Twitter users like to see new content from the accounts they follow, and if you don't oblige, you're likely to see your number of followers decrease before long. Just remember that you also need to walk a fine line here — inundate them with too much content and you might scare them off as well. We suggest sending out no more than a two or three tweets per day, though you can increase that a bit from time to time.
Here When You Need Us
Have questions? Looking for more expertise? Ready to take the next step?