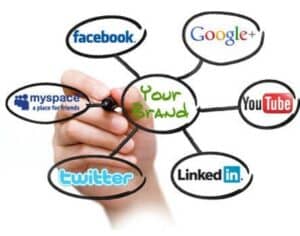 Why Social Media is Crucial for Your Business
Today's marketing landscape is not only exciting, it's absolutely invigorating. Never before have businesses had such a variety of opportunities to get their products and services out to the general public. A big part of this new frontier is due to the proliferation of social media. With so many social media sites and applications to choose from — Facebook, Twitter, Instagram, Pinterest, LinkedIn, and many others — building your brand is easier than ever.
In fact, social media isn't just a good idea at this stage in the game — it's absolutely crucial. It allows you to connect to your potential and current customers like never before, as long as you know how to utilize the sites and applications in a productive way.
A Change in Attitude
The most important thing to remember about the use of social media is that users hate to be bombarded with advertisements and sales pitches. Users of Facebook have been especially vocal in recent years and have found ways to decrease the number of ads that constantly appear on their pages. What does this mean to your business? It means that you must change your attitude. Social media websites and applications provide a number of great selling tools, but if you treat them like selling tools, you may never break through a potential customer's tough exterior. To truly improve the outlook and familiarity of your brand, what you must do is come off as more human.
Humanizing Your Brand
This can be a tricky situation at times because there's no exactly formula. Connecting with potential customers on a more human level isn't an exact science, but more of a business philosophy. What you want to do is create posts that are informative and creative, ones that will engage the user without blatantly trying to sell them something. This will help humanize your brand by blurring the line that separates business and customer. It may also help to give them something they want for free at some point, whether it's a quick snippet of info or an entire ebook. Then, you may periodically "pitch" a product or service without getting on a reader's nerve.
Social Media Shows No Signs of Stopping
Anyone who says that social media is simply a fad is probably the same person whose grandfather said that television was a fad. The truth is that social media has shown no signs of stopping in recent years. Not only are websites like Facebook and Pinterest gaining in popularity, many of the biggest social media sites and applications are learning to work together. For example, anything you put on Twitter can now immediately be posted to your Facebook account by linking the two. Social media is creating a unique community, which gives businesses ample opportunity to connect with both potential and existing customers.
Don't Forsake Tradition
While social media is crucial to marketing tactics these days, it's important that you don't leave traditional marketing behind. Many businesses make the mistake of doing a complete switch to social media only, then wonder why the heck their profits aren't hitting the roof. This is because there are plenty of customers who haven't picked up on social media yet — just consider that there are plenty of sales of hardcover books despite the proliferation of less expensive ebooks — so you must market to them at the same time. Finding the right balance will increase your profits even more.
Like all things in the marketing world, social media acts as a tool. At this point, it's a crucial one for success. If you want to jumpstart your marketing prowess in regards to social media, it never hurts to seek out an expert who can maximize your potential.
Here When You Need Us
Have questions? Looking for more expertise? Ready to take the next step?