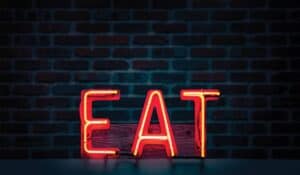 Restaurant Marketing? – Let's Get Started
The restaurant business isn't what it used to be. Back in the day, you could make great food, wait for people to walk by, and hope they spread the word, but that's not good enough any more.
Restaurant customers are using the internet and mobile apps to find, rate, and talk about restaurants more than ever before, and you need to know how to keep up. Luckily, we're here to help.
Be Social
If you have a restaurant, you need an Instagram account. No ifs, ands, or buts about it. People judge food by its appearance, and they want to see what your food looks like before they ever set foot through the door.
Once they're in, they want to take pictures of your food and share it with their friends. In the 21st century, food and photography go hand in hand. There's a reason that Instagram has almost 180 million uses of the hashtag #foodporn.
Not only does Instagram provide the perfect channel for you to showcase your best dishes, it's a great way to keep fresh content going out to your fans. Any time you workshop a new dish, unload fresh ingredients in the kitchen, or switch on the rooftop lights for happy hour, you have an opportunity for a new post.
It's a great way to interact with your fans, too. Ask them to tag you in their photos, or to tag your location. You can even offer a free app or drink for people that show you their posted photo. Keep an eye on your tags and mentions, and repost the best ones — remembering to tag the original poster, of course.
Put The Work Into Your Website
Photos matter on the website, too. Use a high-quality camera — entry-level DSLRs go for less than a grand — and make sure you know how to use it. There are plenty of tips online for great food photography, so don't just whip out your phone for a few quick snapshots and call it good.
Web users can't taste photos, so your food has to look as good as it takes — maybe even better. Plate diligently, pay attention to backdrop and lighting, and edit after the fact. If you refresh your menu a lot, it might even be worth paying a freelancer to come in once a week or once a month to update your imagery.
A website is also a great way for new customers to find you — most diners aren't just wandering Main Street and looking at menus in windows. In fact, nine out of ten diners say they "always" or "frequently" check out a restaurant online before they eat out. 86% check the menu, and 60% look at photos. If you're not online, you're losing customers. It's that simple.
Your website is your hub — all your marketing directs back to the website, so make sure it's fully built. Your menu should be online, and not as a downloadable PDF. They're annoying at best and downright impossible to work with on mobile devices.
Make sure all your info is up to date: address, phone number, specials, events, whatever else your guests might be interested in. You'll be putting out this info in other channels too, but the website has to have it all in one place.
A website is also the perfect place to show off some user-generated content (UGC). Once you start to get some positive reviews and tags on Instagram, throw them up on the site in a dedicated section or a footer on your page. Potential customers are more likely to trust people that have already been there, so the testimonials will bring in business.
Email Marketing Is Your Friend
Email marketing might not be as glamorous as social media anymore, but it's a fantastic tool for restaurateurs. Ask diners for their info after they eat, not before, so you know everyone on the list liked the food. Make cards that explain what you'll be using their email address for, like specials, events, new menu items, and happy hours.
Keep the ask to a minimum — name, email address, and maybe zip code so you can segment locals who might be repeat customers from tourists just in town for the weekend. If you're going to ask for a birthday, you'd better be prepared to give them a birthday present! People are more likely to give up personal information like their date of birth if they know they're getting some benefit from it.
Watch Your Feedback
Diners are going to review you on Google, Yelp, and TripAdvisor whether you like it or not, so you need to make sure you're on top of it. Take the time to ensure that each site has the correct hours, address, phone number, and current menu.
Keep an eye on other information that guests might be asking about. Do you offer gluten-options? Do you have free wi-fi? Is there a patio area? The last thing you want is guests getting angry because your restaurant doesn't offer something that Yelp says it does.
Upload photos, and lots of them. Diners will be uploading their own photos, and chances are good that they'll be low-quality phone photos, so yours need to stand out. List your prices, too. If diners arrive at the restaurant to find that you're way out of their range, they'll leave unhappy.
Finally, keep your guests happy. You're not finished with them just because they came in the door — the food, atmosphere, and service need to live up to what they expected too.
When negative feedback does arrive — and trust us, eventually it will — address it quickly and professionally. Don't lose your temper, no matter how unreasonable the customer is being or how much you feel you're in the right.
If you made a mistake, own it. Maybe offer them a refund or a free meal to compensate — privately, if you can. The cost of comping a meal is less than the damage to your reputation that can come from a bad review.
Respond to every piece of feedback you get on Yelp and Google, either apologizing or explaining yourself — ideally both. Worse than not responding is letting negative feedback sit unaddressed.
Don't just focus on the bad reviews, focus on the good ones too. Like and share good photos and positive posts about your restaurant, offer coupons for customers for leaving reviews, and thank people for coming! Diners' experiences don't end when they sign the check, and a happy customer is a repeat customer.
Here When You Need Us
Have questions? Looking for more expertise? Ready to take the next step?