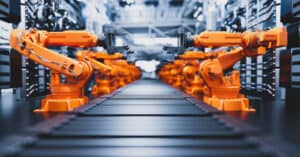 Overview
_____________________
Success
Increased web traffic by 42%
Increased sessions by 30%
Increased customer acquisition through paid search by 91%
Email open rate increased to 37.7%
Social impressions increased 97%
Introduction
_____________________
Manufacturing
Manufacturing marketing presents a unique set of challenges. Much of the marketing strategy for a manufacturing client is done from a B2B perspective, targeting the clients who might purchase industrial machinery. But B2C considerations also need to be taken into account — marketing must also think about the end-user who will benefit from the improved manufacturing processes. Here's how we struck a balance.
Chapter 1
_____________________
Problems
A manufacturing client partnered with us primarily to increase their brand awareness. They offered a product that was highly specialized but was supported by a thriving market. The issue was a simple lack of awareness among the companies that would benefit most from their product, who were instead using much more expensive and lower quality options.
As a result, market share was low. With low market share, little to no word-of-mouth transmission, and poor awareness metrics, lead quantity and quality had suffered. The client wanted us to bring in better leads, lower the cost per lead, and ultimately increase sales numbers.
Chapter 2
_____________________
Strategy
We began with a comprehensive integrated marketing approach that addressed every stage of the process, from awareness to decision. We could deliver advertising and marketing materials to prospective consumers who were far more likely to convert if we had better data and keyword research. Components included:
Search and display ads
SEO, both onsite and in content
Email marketing
Lead nurturing with advanced workflows
Content marketing — blogs, podcasts, videos to establish thought leadership and expertise
We also put in place a thorough referral program that was connected with the delivery team. Referrals are an especially valuable form of warm lead generation in the B2B world — Forbes rates them as the second-most valuable source of qualified leads — so engaging the client's existing customers to bring in their peers was a high priority.
Finally, we built an active social media presence, engaging not only potential B2B customers but the end-users who would benefit most from the product. By creating a community around the client and the vertical in which it operates, we could increase interest and engagement at every stage of the marketing process.
Chapter 3
_____________________
Results
Once the client's goals, brand, foundation, and strategy were unified and consistent, the results were immediate and significant.
In the first six months (February to July of 2021), we saw an increase in website traffic of 42%, with 41% of those being new users. Sessions went up by 30% and page views by 11% with no update to the website itself, indicating more interest and more relevant traffic. We also brought in 91% more users through paid search ads, with 99.8% of those being new users.
Our social media efforts paid off, too. Conversions through social media over the previous year skyrocketed by 720% and engagement went up 271%. Even direct messages were up almost sixfold over the previous year. Across four social platforms, our client's net audience grew by 88% in the first six months alone, accompanied by a corresponding increase in email open rate and video views. Customers and prospective customers were more engaged, more interested, and more likely to reach out.
As a result, lead quality and quantity have both skyrocketed. Our client is able to exercise more discretion and choice when it comes to the leads they pursue and nurture, which should result in a more loyal customer base. With a simple integrated marketing approach, we were able to turn this relatively obscure manufacturing client into a household name among their clients and peers.
Here When You Need Us
Have questions? Looking for more expertise? Ready to take the next step?