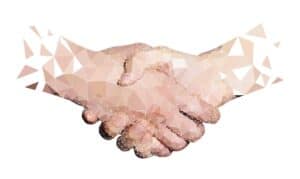 ABM & AI — A Match Made in Marketing Heaven
Yeah, that's a lot of initials. But account-based marketing (ABM) and artificial intelligence (AI) are the perfect match. ABM has really come into vogue in the last few years, thanks to significantly higher conversion rates and a more deeply personalized customer experience.
A successful ABM strategy needs technology to work. IP targeting lets you target your messages down to the specific building where your target company operates. Third-party databases collect and update regularly so you know it's current. And of course, LinkedIn and Facebook have made it easier than ever to get in touch with people.
Artificial intelligence takes your ABM game to the next level. It offers marketers unprecedented insights into their customers' engagement and the success of their campaigns. Here's how.
Building a Target List
One of the most important aspects of ABM is finding the right companies to target with your marketing. Sometimes that's easy — if there are a few big fish in your industry or your work in a space with a very specific set of needs, you can just make a list from memory and a few Google searches.
But for everyone else, it can be hard to narrow down who you should be marketing to and who isn't likely to be a good fit. Let's say you make data backup software for small businesses. Can you tell off the top of your head who the top 100 best clients are within a 100-mile radius? Probably not. That's where you need the help of a computer.
With the help of AI, you can set the criteria that you value the most in a target and even assign each bullet point with a grade depending on how important it is. You might be flexible on location since your business is mostly online and in-person meetings are infrequent, but you're not willing to budge on budget.
The AI can help with scoring, too. If you get a lead that meets some of your criteria but misses on others, your software can tell you how much work to put into pursuing them. Taking all the guesswork out of the value of your leads will save your sales team a lot of time and resources.
Another major area where AI can boost ABM is in tracking huge numbers of targets. You might remember the needs, pain points, and names of the executives at a handful of companies, but you're never going to be able to keep track when that number grows to 100 or 1000. A smart CRM can do it for you.
Finally, remember that not every pitch is going to lead to a sale — that's part of doing business. But that pitch doesn't have to be wasted. An AI can scrape your database and find the target company that's most similar to the pitch you just lost, allowing you to recycle and repurpose your materials for the next one up.
Being "On" All the Time
The internet never sleeps, but you do. Especially in the world of tech, there's a good chance that your potential clients are browsing at odd hours and from different time zones, while you're eating dinner with your family, sound asleep, or out for the weekend. If you take a day or two to get back to them, you might lose them.
An AI doesn't need sleep or vacations. You can set up your software to respond to leads when you're not there — and not just with the same canned email to every lead. The beauty of an AI is that it can take dozens of criteria into consideration, form the channel through which the lead discovered you to the information they put into the form. You could even set it up to make a joke about the weather in their zip code.
From creating contracts to answering sales questions, from onboarding to customer service, technology is allowing companies to make themselves available in a way that a human staff never could.
Remember, ABM isn't a matter of flipping a switch. It takes a company-wide investment and it will always require a human touch behind the scenes. But big teams can be resource-heavy and humans can struggle to multitask where an AI has no trouble at all. The best possible team is a marriage of the two — the versatility of a computer with the insights and intelligence of a human team. With that combination, the sky's the limit.
Here When You Need Us
Have questions? Looking for more expertise? Ready to take the next step?