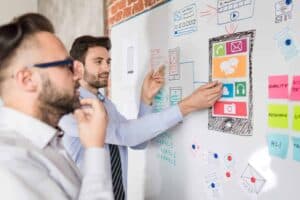 How to Build an ABM Campaign
So you're sold on the value of account-based marketing — maybe you've been doing a little one-on-one marketing of your own. If you're ready to make the transition to ABM full-time, here's what you're going to need.
A Good ABM Team
First things first — ABM is a company-wide effort. Everyone needs to be on the same page when it comes to setting expectations, defining your goals, setting KPIs, and figuring out the role that ABM will play for your company. It doesn't have to be the only marketing strategy you use, but you do need to plan ahead for how it will interact with your traditional marketing efforts.
Every organization will have slightly different needs, but there are a few basic roles you'll need to fill:
Business and sales development reps: the front lines of your ABM strategy, the sales development team are responsible for executing inbound and outbound ABM efforts.
Sales database administrator: keeps the contact and account data in your CRM up to date.
Marketing operations manager: responsible for keeping your contacts and accounts lined up with the appropriate marketing activities, based on where they are along the buyer's journey.
Content manager: content will be the cornerstone of any ABM strategy, and you'll need a content manager to make sure that the right people get the right content at the right time.
Creators: you can't have content without someone to build it. You'll need copywriters, graphic designers, web developers, and maybe photographers and videographers to bring your company and your brand to life.
Clear Goals and Strategy
Now that you've got a team in place, you need clear goals. You can't get anywhere with ABM unless you know what you're trying to accomplish. Some common ABM goals include:
Targeting specific accounts: ask your salespeople who the "big fish" are that they've always wanted to sign, and go after those accounts.
Entering new markets: whether it's a new location you're expanding into, a new vertical, or a new segment, you'll need to make a name for yourself from scratch.
Building market share: if you're a small fish in a big pond, ABM can be a good way to grab a few accounts that will boost your influence in your space.
Launching a new product: if you're launching a product that enters a new space, you'll need a way to tell your new customers. Going after target accounts specifically is a great way to spread the word.
Depending on your goal, there's more than one way to go after an ABM strategy. For big accounts, go with a one-to-one approach — it's more resource-intensive, but offers the best personalization. For smaller accounts, you can use a broader approach that will bring in more business.
Find Your Technology
The only reason that account-based marketing is enjoying such a renaissance is the prevalence of technology. The huge selection of software for finding customers, figuring out their contact information, tracking the marketing content that they're receiving, and serving them the best possible campaign information makes ABM at scale possible. It allows you to engage your customers on their own terms, engage not only an individual lead but the entire account, and personalize every aspect of your approach.
Identify the Right Accounts
Once you have your team and your goals in place, you need to find the right people to direct all that marketing firepower toward. That's where your ideal customer profile (ICP) comes in. Think of it like a buyer persona, but for businesses. Look at the things that your best customers have had in common, then look for the companies that fit that profile.
You'll also need to establish a real buyer persona — even though you're in the world of business-to-business, you're still marketing to half a dozen real human beings who are in charge of making that decision. Finding those people and figuring out what appeals to them will be an important step.
Finally, you need to decide which accounts to go after. With research, you can find the companies in your area that best fit the ICP you created. Your sales team is a perfect resource. Ask them which accounts they've always wanted to land. Ask them what their best accounts have in common, which ones are easiest to close, and which ones have signed up for the longest contracts. Your sales team has a unique insight into which accounts are the best fit for your company — use that insight!
Pick the Right Channels
Part of the effectiveness of ABM is that you can reach out and engage best-fit accounts rather than waiting for them to come to you. Just make sure you use the channels that are the best fit for the clients you're reaching out to. Look into which channels your clients use and create content that's designed for those channels in particular. Here are a few to start with:
Email
Social media
Video channels like YouTube and Instagram
Website landing pages
Blog articles
Display ads
Search engine ads
In-person events like trade shows
Virtual events like webinars
E-books and whitepapers
As with everything else ABM, there's software for this, too! Tools like Terminus can help you find the channels where your target audience is most active so you can prioritize them above the rest.
Execute Your Campaigns
Time to get started! You know who you're targeting, you know where they spend their time, and you have the team in place to bring all these ideas to life. Use your tech stack to put the plan into action, deploying ads and serving up the right materials to the right people.
Once you start to see engagement, you can start transitioning to a sales approach. Use more traditional channels like direct emails and phone calls — your target clients will appreciate the personal touch. Make sure your sales team is equipped with the right content to nudge your targets down the funnel.
Measure Everything
The final step is data collection. You need to know how effective your campaigns have been so you can adapt and optimize going forward. Luckily, measuring your ROI is much easier with ABM than it is with traditional marketing. Since you're only marketing to specific accounts, it's easy to tell whether you met your goals with those accounts and adjust accordingly.
When you know what's working and what's not, you can create even better campaigns going forward. The transition might be intimidating at first, but if you're in the B2B space, ABM might be the push you need to take your marketing to the next level.
Here When You Need Us
Have questions? Looking for more expertise? Ready to take the next step?