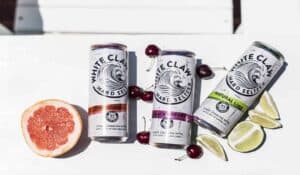 Marketing in the Age of White Claws & Veganism
Every year, Morning Consult asks more than 10,000 consumers whether they'd consider purchasing or using a certain brand. They then compare growth in the share of customers between years to name the fastest growing brands of the year. And in 2019, customers were all about food.
In fact, of the top 20 spots on the list, more than half of them were either food brands or food delivery services. So why are these brands doing so well? And what can you do to emulate them?
The Prevalence of Self-Care
Millennials are big fans of self-care. They've grown up in a world of student debt, a gig economy, an increasingly unhealthy populace, and a wealth of other problems that can be overwhelming. They're sick of feeling like commodities to their employers and their schools.
To that end, millennials are more focused on taking care of themselves than previous generations have been. They're spending twice as much time and money on workout plans, diet regimens, health food, mental health treatments, life coaching, and other avenues to self-improvement as their parents did.
Some of the brands on the list reflect this, though in very different ways. Kind Snacks, coming in sixth on the list, has long made a point of crusading against added sugars in snack foods — they even made a database to show consumers how much sugar is contained in their supposedly healthy competitors' products. As millennials focus more and more on healthy food, Kind is positioned well to take advantage.
At the other end of the self-care spectrum is indulging yourself a little bit, even if it's not with the healthiest options. Trolli, now owned by Ferrero Group, came in at 17th on the list. Its neon gummies and bold products like sour candy corn are a far cry from Kind's snack bars, but sometimes you're just craving a treat!
White Claw, number two on the list, splits the difference. Hard seltzers have exploded in popularity in the last year, with White Claw taking 59 percent of the market. White Claw allows people to have a few drinks and kick back around the pool, but without the extra guilt of sugar-filled cocktails or carb-heavy beers.
Another Ferrero Group brand, 100 Grand, came in at 18th, thanks to their focus on brand growth and awareness. And even though the dairy industry isn't at the top of its game, Nestle's Nesquick brand managed to snag the 16th spot, thanks in part to the launch of their fully recyclable packaging in Europe. Which brings us to our next point:
Environmental Consciousness is a Selling Point
It shouldn't come as a surprise that customers care about brands that focus on environmentally friendly initiatives. Sustainable manufacturing, packaging, and ingredients are a priority for today's buyers to a degree that they never have been before, and the companies that lean into these priorities are seeing success.
Biggest on the list is Impossible Foods, makers of the Impossible plant-based meat line of foods. Starting as a niche product, Impossible meat substitutes have now expanded into grocery stores, Burger King, and Qdoba. Their main competitor, Beyond Meats, have made their way to Subway, Carl's Jr., and McDonald's.
Impossible's pitch has been focused on two main prongs — health and the environment — and both of them have been widely embraced by younger customers. The health detriments of red meat have been common knowledge for years. Recently, the environmental impact of factory-farmed meat has been a hot-button issue in a lot of customers' minds as well. That's why Impossible and Beyond have done so well.
Follow Trends — But Stay Grounded
Jumping on board with trends is a good idea, as long as you can stick to what you know. Kind didn't suddenly start making snack foods with no added sugar, they merely saw an opportunity to position their product in a way that fits with what people care about. The 100 Grand candy bar has been around for more than 50 years, but a new strategy and an emphasis on social media has brought them back in the limelight.
That's the balance that it's so crucial to strike. You have to keep your fingers on the pulse of what society is interested in and cares about, without taking away from the substance of what you're doing. It's a difficult line to walk, but if you do it right, you just might strike gold.
Here When You Need Us
Have questions? Looking for more expertise? Ready to take the next step?