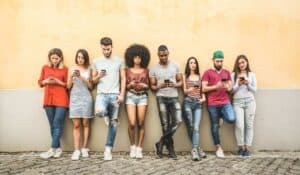 Marketing to Gen Z – Part Two
Last month, we wrote about the increasingly important challenge of marketing to Generation Z, those born between 1997 and 2012. They're more web- and tech-savvy than any previous generation. Gen X and millennials may think of the web as their ally, but we merely adopted the web — Generation Z was born in it, molded by it.
Generation Z is just now starting to exit college, so their spending power will only get stronger over the coming years. But their priorities, perspectives, and interests aren't the same as those of the millennials that came before them. Let's jump back in and talk about a few more ways to market to Generation Z
Use Influencers, but Stay Authentic
Influencer marketing is still alive and well — people like Kim Kardashian can make half a million dollars off of a single Instagram endorsement, but the strategy has to be tweaked for Generation Z. They pride themselves on authenticity and a sense of community, made easier by the constant connectivity of the digital world.
What that means is that while earlier generations tended to congregate with people who lived nearby, worked with them, went to school with them, or shared similar economic backgrounds, Generation Z tends to look for groups with common beliefs and interests, no matter who those people are.
Picking an influencer who's famous isn't enough to win them over — sure, they might recognize the name, but unless they feel a connection to the Instagrammer in question, the fame won't mean anything to them.
Instead, Generation Z are responding much more favorably to micro-influencers (10,000 to 100,000 followers) and even nano influencers (1,000 to 10,000 followers). Since these small-scale influencers aren't making enough money to be full-time tastemakers, they still have day jobs, student loans, and class schedules to deal with. They're real people, so they're much more relatable to the people who share their interests.
Micro- and nano-influencers also tend to be far more focused in their scope. A micro-influencer who's into yoga only talks about yoga, not the wide array of food, travel, tech, and other products that a major social celebrity might endorse. This means that their followers almost all share that interest, which in turn means that you can focus your marketing dollars on a specific audience much more effectively.
Engage with Customers
Part of the sense of community that Generation Z values so much is their emphasis on doing their research before making a purchase. 41 percent of these customers read at least five online reviews before deciding on a purchase, and they're twice as likely to share positive feedback as negative.
But you can't just sit back and let the reviews roll in. Fully 76 percent of Gen Zers have said that they want brands to respond to their feedback, and they see that responsiveness as an important indicator of a brand's authenticity.
Twitter is a great place for customers to complain in real time, but you don't want your feed and mentions cluttered by unhappy customers and service questions. Instead, a lot of brands are creating separate customer service accounts — you can post social content on @yourcompany, but handle customer service on @yourcompany_help so that your social team isn't overwhelmed by irate customers.
Stay on your toes, though. If an influential Twitter account posts something negative and tags you in it, and it's allowed to sit over the weekend without a response, the tweet could spread like wildfire before you get a chance to do anything about it. If you're not going to be able to respond to tweets within a maximum of 24 hours, don't bother setting up a Twitter account.
Prioritize Privacy
Given concerns about always-listening devices, leaked information from corporate hacks, and shady companies that sell data to advertisers, Generation Z has grown up with a strong emphasis on privacy when it comes to their data. According to one study, 88 percent of Generation Z agreed with the statement "protecting my privacy is very important to me."
They cover up the webcams on their laptops, and they're cautious about what they post online, knowing that they can't control the spread of photos and videos that might be held against them. Instead, they prefer to share content through apps like Snapchat, Whisper, YikYak, or Secret.
What this means is that Gen Z doesn't trust you, the company they patronize, with their personal details apart from maybe shipping addresses and purchase history. They don't want to tell you their birthday or their phone number, and they'll be put off if you ask.
When you ask to collect info, do so as transparently as possible. If you offer to save credit card info, explain your security and encryption credentials. If you ask for someone's birthday, explain that it's in order to send them a gift or because you have to for age verification. If you want teens to create an account to use your service, don't ask for a phone number — they'd rather just leave then give it to you.
New Strategies for a New World
Every generation and demographic has its own preferences and priorities — that's why there's no single marketing technique that will work on everyone all the time. It's why it's so difficult to do what we do.
When it comes to Gen Z, the story is no different. Your strategies and approaches will have to evolve, as they always have. You'll have to keep your finger on the pulse of what's working and what's not. But most importantly, you have to keep a strong foundation of content.
If your content is easy to find, easy to use, relevant, timely, and genuinely useful, it'll bolster up whatever strategies you use to drive people to your product. No matter what devices they're using or how, your potential customers will always want to know that they can find trustworthy, helpful information about your product and how it can solve their problems. That's true of today's teenagers, and it'll be true about their grandkids, too.
Here When You Need Us
Have questions? Looking for more expertise? Ready to take the next step?