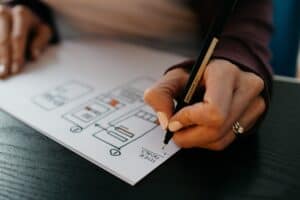 The Importance of Mobile-First Web Design
We now live in a primarily mobile-first society, which means 80% of web traffic comes from mobile phones. That number is expected to rise significantly over the next few years, so mobile-first web design needs to be a priority for marketers.
That doesn't mean marketers need to stop focusing on traditional websites completely. An informative, friendly website and captivating visual design are still necessary for brand recognition and Internet visibility. But creating an optimized website that displays correctly on mobile devices, no matter the screen size, is perhaps even more critical. Doing so helps fulfill consumers' expectations and ensures that a brand remains competitive.
What Is a Responsive Site?
There are dozens of different size monitors, tablets, and mobile devices available. Users also have several browser options to choose from when browsing the Internet. Responsive web design (RWD) is a type of web design that ensures a website displays properly on every device, on any screen size, with every kind of browser.
This user experience design is critical because nothing is more frustrating to a consumer than a website that doesn't display correctly. Visitors also get annoyed at websites that are hard to navigate, where information is hard to find. Today's consumers expect a friendly website with a captivating user interface design — nearly 60% will leave a website that doesn't display right on their mobile phones.
However, it is also important to note that responsive web design is not necessarily the same thing as a website that has been optimized for mobile phones. Additional steps must be taken to ensure a mobile-first approach to the visual design. Before creating a mobile site, the user experience design of a mobile-first website needs to be carefully considered.
A mobile-first approach is still beneficial to both the consumer and the brand. The user experience design of a mobile-friendly website will significantly appeal to consumers and provide them with a rewarding browsing experience. At the same time, by creating a better experience for its target market, a brand can improve brand recognition and increase conversions.
Why Is the User Experience Design So Important?
A responsive site and a robust user interface design is just the first step. To truly deliver an optimized website that resonates with a brand's target audience and solves their pain points, marketers need to ensure that they create a friendly website that truly focuses on providing a positive user experience.
Brands and marketers need to consider several things from the consumer's point of view. An engaging design and interface are, of course, primary components. But so too is the recognition that consumers will view the site on a much smaller mobile screen size than a desktop computer or tablet.
That means the page layout, the amount of text on each page, and how elements of web pages are presented need to be re-thought. This is the element of putting mobile design first. Individuals viewing the site on a mobile phone will not want to move through several pages to find the information they seek. They also don't want to periodically zoom in and out of pages to find navigation buttons or read smaller blocks of text.
Maintaining a mobile-friendly site means making it easy for viewers to find everything they need. They should be able to scroll up or down, and there should be a strong limitation on navigational buttons or actions.
Features on a mobile site must also be considered. Different browsers will support different features. Before implementing any features on a mobile site, designers must first ensure that they will be supported. Otherwise, there is a risk that the website won't function or appear properly on a mobile screen.
Lastly, the speed at which a website loads on a mobile phone is also crucial. A website that is designed to be mobile-first will be an optimized website that utilizes compressed images and other elements to ensure a faster load time. Mobile sites don't need to contain all the graphical elements that a desktop website might contain. Instead, they should be designed to put information into the hands of the viewer as quickly and as easily as possible.
In Conclusion
Mobile traffic is only going to increase. Brands must be proactive and not delay any longer in creating an optimized website for mobile phones and mobile screen sizes. It's what consumers expect and what brands need to do to remain competitive and deliver a positive user experience at each step of the customer buyer journey, much of which may take place on a mobile phone.
Here When You Need Us
Have questions? Looking for more expertise? Ready to take the next step?