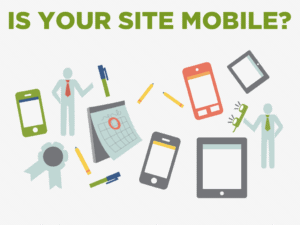 How Small Businesses Can Use Mobile Web Design
Simple observation will tell you that smartphones are not just a passing fad they're here to stay. The numbers back up this claim. Currently, there are over 1.75 billion smartphones worldwide and that numbers is only expected to increase as the technology becomes more accessible. Even more people are connecting to the Internet via their smart devices and in 2014 mobile exceeded PC Internet usage. Despite this migration to mobile, 45 percent of businesses still don't have a mobile-optimized site or app. With so many consumers accessing the web through their phone, it's imperative your business offer a mobile friendly site.
What is Mobile Optimization?
Just because you can view your site on a smartphone does not mean it is optimized for mobile. Take a look at your current design and ask yourself the following questions:
Does it load quickly?
Can you click on the navigation buttons easily?
Do you have to scroll excessively or pinch to zoom in and out?
Can you read the text?
Is the user experience straightforward and intuitive?
If you answered no to any of these questions, then your site is not mobile friendly. Mobile users tend to be more impatient than their PC counterparts so a slow-loading site or difficult to understand navigation is a surefire way to turn away potential customers. In order to tap into this market, you need to understand the numerous features and limitations smartphones offer. The best advice when choosing a new design for your site is to keep it simple. Streamline as much of the design as possible and stay away from high resolution images, small fonts and navigation buttons and walls of text.
Why Mobile Optimization?
Redesigning your non-mobile site might seem like a money and time sink, but you'll ultimately reap the benefits in the form of:
More traffic – 28 percent of all global web searches are performed on a mobile device. With billions of smartphone users worldwide, a well-designed mobile site can capture your audience's attention, especially if none of your competitors are mobile.
Better brand engagement – 74 percent of consumers will return to your site if you offer a good mobile experience and will suggest your site to their friends. A well-designed mobile site keeps your customers happy and will lead to a much better brand reputation.
Higher revenue – Mobile commerce revenue is over $114 billion with that number expected to grow year over year. If you have a brick-and-mortar store, a well optimized mobile site can even increase your offline sales as well by making it easy for prospective visitors to find your location, contact you and comparison shop.
What Mobile Design?
There are two main choices for businesses when it comes to a mobile site: responsive or dedicated. Both have their advantages and disadvantages.
Dedicated – A dedicated mobile site is one that has the format of m.url.com. For many brands, it's a great option because they don't need to completely redesign their entire website. Unfortunately, your mobile site and PC site are two separate entities, so you need to manage both of them separately. If you do go this route, imagine exactly what it is your visitors want to see when visiting your site and design around those one or two actions. This will reduce the amount of time spend on updating your site and improve the overall user experience.
Responsive – The opposite of a dedicated mobile site, responsive sites adjust your site to work well on different displays, browsers and devices. The best part is you don't need to have two separate sites. Unfortunately, it can be an expensive process and you'll need to redesign your entire site, but it will save you time in the long run.
Embrace Mobile
It's pretty clear that mobile is here to stay and people are relying on it more each day. In order to be successful in this new landscape you always need to keep your customer's needs in mind while at the same time staying true to your brand.
Post by special guest writer, Ivan Serrano, journalist living comfortably in Northern California.
Here When You Need Us
Have questions? Looking for more expertise? Ready to take the next step?