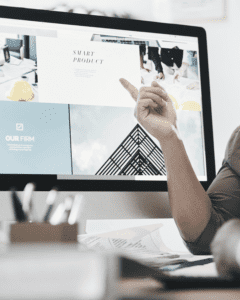 What To Consider When It's Time For A New Website
As the digital landscape grows increasingly competitive, brands and companies must rethink their current online marketing strategies. It isn't always the most obvious choice, but companies should start first with their website. The website is the cornerstone of a brand in a digital world and ranks just below social media as the most important used channel for marketing.
Whether a new company launching a website or an established brand refreshing one that isn't delivering the expected results, there are a number of new site considerations that play a significant role in online success.
Building a website requires much more than simply laying down text and images in an appealing manner. There are several things to consider when designing and developing a website that make a major difference in how search engines find your site and optimize the experience for site visitors.
What You Need to Know Before Building a Website Updating Your Website
Many individuals have the basic knowledge to create a website. But few understand the full scope of what to consider in a new website design and development process. Search engines must easily find a website and effectively convert visitors to customers, and consumers have increasingly high expectations of their online experiences. Consider the following before you embark on updating your website.
Content Management System/Software
A CMS is the website behind the website — the services that improve the functionality of your website. A CMS is essential today because it is what will be used to deliver an optimal and memorable user experience. And with consumer expectations of a good customer experience higher than ever, a quality CMS isn't something you want to dismiss.
Mobile Compatibility
Nearly 60% of all web traffic is now done on mobile phones, and that percentage has steadily risen over the years. Consequently, you'll want to ensure that your website can be viewed properly on a mobile device. In fact, many web designers now create a website for mobile devices first and then adjust it for desktop viewing. Mobile compatibility is not as simple as stacking your modules, either. It requires thoughtfulness around content presentation, menu organization, interactive elements, and more.
Accessibility and ADA Compliance
Is your website ADA-compliant? It should be one of the most critical new website considerations when building a website. ADA compliance ensures everyone, regardless of their disability, has the opportunity to discover the content and services on the site. An ADA-compliant website is also required by law — limiting accessibility could result in legal complications.
Aside from that, it just makes sense to ensure that a website is easily accessible to everyone. Doing so results in increased website traffic as well as an improvement in search engine optimization. In addition to adhering to the latest ADA standards, this is an area most organizations will want to solicit a professional audit to ensure compliance.
A Search Engine Optimization Strategy
Search engine optimization (SEO) helps major search engines determine the relevance of your site in response to organic search queries. Without SEO, your site may appear much lower on a page of search results. It might possibly never be found at all. A CMS, in conjunction with SEO, can be a great tool for improving the code of your website to make it more SEO-friendly.
Put simply, SEO done right delivers the following essential benefits:
Increased search engine visibility
Higher search engine rankings
Increased website traffic
Attract new potential customers
SEO builds trust
SEO provides important analytical data
A good SEO strategy offers a more positive user experience
SEO can help your site get found first before a consumer finds a competitor's site
Site Mapping
Consider site mapping a secondary form of SEO. But site mapping doesn't use keywords and key phrases. Instead, site mapping provides search engines with a digital map of your website's structure. This map enables search engines to link to the most important pages of your site, once again providing a better user experience. Including this in your new website design is essential because it guides the user journey. When building a website, site mapping is vital to improving SEO and increasing your online visibility.
Site Tracking
Website tracking is another new website consideration that should not be dismissed. It is a vital function that enables a business to collect crucial data about the users that visit their site. This data can aid in many things, such as creating more targeted ads, knowing what type of content better attracts users, and overall providing a more personalized browsing experience.
Features
If your website is at least a few years old, it is likely time to update your website with some of the new features available. Consumer expectations constantly change and evolve, and your site needs to contain features to meet (and exceed) those expectations. Some of these features are relatively simple to employ when you create a website. These include easy navigation, an appealing layout, and informative content. Other features make a website more engaging, such as video content, a connection with social media platforms, and authoritative resources.
Final Thoughts
Many brands and businesses remain overly focused on the look of a website. As a result, other critical website considerations are neglected. Businesses that dismiss these considerations are doing themselves a great disservice. The elements discussed above should be included in your new website design and development processes to remain competitive and succeed online.
Understandably, many businesses don't have their marketing department or an experienced web designer on staff, and so choose to opt for free or inexpensive website design services found on the Web. But those services can't deliver everything that a professional marketing agency can. When building a website, you want to ensure it performs well. Consider a professional web design agency, and you'll significantly increase your chances of long-term online success.
Here When You Need Us
Have questions? Looking for more expertise? Ready to take the next step?