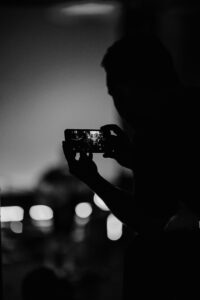 Overview
_____________________
Success
Increased audience across social media platforms (Facebook, Instagram, and Twitter) by 289.7% over 12 months.
Increased organic impressions on social media platforms by 43% over 12 months.
Increased engagement across social media platforms (Facebook, Instagram, and Twitter) by 300% over 12 months.
Drove top-line sales, accounting for around 31% of annual revenue.
Introduction
_____________________
Social Media Marketing
In the 21st-century business world, social media marketing is becoming a more integral aspect of an organization's overall marketing plan. According to research conducted by Sprout Social, 55% of consumers learn about new brands on social media platforms. This stat alone illustrates the importance of having a strong online presence on various social media platforms as a business striving to find success in the modern world.
Furthermore, with researchers estimating that there will be around 243 million social media users in the US by 2025, it's truly no surprise that social media is significantly influencing consumer behavior. In addition, this data highlights the value that investing in social media marketing can provide to organizations when it comes to increasing brand awareness, customer engagement, and revenue.
This case study looks at the value social media marketing can bring to organizations. Here's how we helped a direct-to-consumer organization use social media as a channel to drive brand awareness, increase engagement, and grow sales.
Chapter 1
_____________________
Goals
As with all of our valued clients, we begin every consultation by strategizing over goals and desired outcomes. With this client, who is a direct-to-consumer organization, we discussed their needs, customer base, and business objectives.
Our first goal was to drive more brand awareness for this client through various social media platforms. Our second objective was to increase quality brand engagement on social media. The third, was to drive sales and revenue while maintaining a good ROI. After creating clear objectives for our clients when it came to their social media marketing, we moved on to creating an executable strategy.
Chapter 2
_____________________
Strategy
During the strategy development process, we created a social media plan with this client that centered around using a mix of organic and paid social media across Facebook, Instagram, and Twitter. In addition, the strategy centered heavily around growing an owned audience and increasing followers through consistent, quality content publication.
To execute this strategy, we began researching the client's consumer base and building additional prospective audiences. After conducting this research, we began generating social media content that was targeted and engaging to the different audiences. In addition, the messaging and copy paired with the social media content we created was designed with the purpose of driving traffic to the client's website, and ultimately a sale. Overall, the goal of this part of the strategy was to identify strategic points within the buyer's journey and to drive traffic to the website primed for conversion.
Along with the original social media content, we created retargeting ads based on purchase behaviors and conversion rates from the first round of content. Essentially, if a consumer made a purchase after interacting with the client's social media posts, then we sent out retargeting ads designed to help make this first-time customer a repeat customer. If they did not make a purchase, we devised retargeting ads designed to help move them through the buying process to become a customer.
In addition, our team performed community management services to encourage engagement, answer purchasing questions, encourage positive reviews to be left, handle customer complaints and negative reviews.
Throughout the implementation phase, we continued to optimize based on performance to refine strategies and out-perform previous successes.
Chapter 3
_____________________
Results
We, along with our client, were quite pleased with the results. Through our implementation, we helped our client grow their social media presence and brand awareness significantly. The client's audience grew across Facebook, Instagram, and Twitter by 289.7% YoY, with net audience growth of 602.9%. In addition, organic impressions grew 43% YoY, with paid impressions averaging an additional 2 million per month.
Through the implementation of this social media strategy, our clients also saw engagement across all three platforms increase by 300% YoY. Their social media platforms also helped to drive 566,789 site sessions over the year. Along with brand awareness and social media platform growth, our clients saw a significant increase in sales. Social media drove top-line sales, accounting for 31% of annual revenue, and ROI was 288%. In this case study, the results speak for themselves, illustrating the long-term value that investing in social media marketing can bring to an organization.
Here When You Need Us
Have questions? Looking for more expertise? Ready to take the next step?