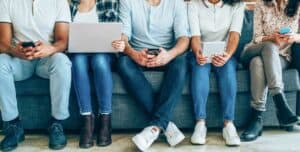 The Relationship Between SEO and Social Media
If you're building a marketing strategy, SEO and social media are two phrases that you've probably heard a lot. SEO is especially important in the inbound marketing world, which relies on potential customers finding you through their own research process — a process that often involves organic search.
But in the last decade or so, social media usage has exploded worldwide. Users flocked to the internet, companies followed them, and now social media marketing is a $13 billion industry in the U.S. alone.
So which is more important? The truth is, these two channels are not at odds with each other. They're both important. And if you plan your campaigns right, they can both be integral cogs in your marketing strategy.
It's All About the Journey
The thing to remember is that social media and SEO can play two equally important roles in turning a stranger into a customer — just not at the same time. A person will probably have to interact with your brand half a dozen times before they make a purchase, and several of those touchpoints might be search- or social-related. Here's a hypothetical buyer's journey for a (fake) company called JavaFriend that makes "smart" coffee makers:
One of your current customers publishes a post on Facebook that says "I don't know how I ever lived without my JavaFriend."
One of their friends sees the post and thinks, "what's the big deal with smart coffee makers anyway?"
They conduct a Google search for "is a smart coffee maker worth it" and discover a blog on the
JavaFriend website walking through the pros and cons of a smart coffee maker. They do a little more research on the site and like what they see.
They decide to follow JavaFriend on Facebook, where they see an article naming JavaFriend "Best Smart Coffee Maker of 2020."
Their mind made up, they go to JavaFriend's website and make a purchase.
This is purely hypothetical, but it's an entirely plausible scenario for one person to make a decision — and it needed both social and search to make it happen.
Social Media SEO Strategy
The lines between social media and search are blurring — most social platforms have built-in search functions, and search engines are starting to take your social presence into account when delivering results. Here's what you can do to integrate those efforts:
Social sharing buttons: Google and other search engines are now starting to pay attention to whether your site gets shared on social media. If it does, you get better search rankings. Adding share functionality to your website will not only help you get traffic through social media, but it'll boost your SEO.
Consistent keywords: don't pack your social posts with keywords — readability is paramount — but make an effort to keep your phrasing and keyword usage consistent across channels so you stick in people's minds better
Links in social profiles: links shared on your Facebook page or Twitter feed are nofollow links, which don't help your SEO status. The ones in your profile or bio, though, are follow links. Adding a link to your homepage or campaign landing page will help you land extra viewership and raise your search ranking.
Put links in videos: YouTube and SlideShare both allow you to insert links in the middle of videos and presentations, so make sure to share links to related content. You'll drive traffic to your content and add inbound links that are good for your SEO.
How Social Media Helps SEO
SEO is really complicated, but it's in large part a popularity contest. If your site gets a lot of visits from the right people, your SEO rankings rise. That's where social media can help.
If you're posting high-quality content on social media that drives people to your site, search engines will notice and you'll rise through the ranks. As you become more noticeable, more people will see your content and share it on social media, and the cycle continues.
Neither strategy can live in a vacuum, and both are important facets of a good marketing strategy. If you want to get ahead of your competition, you'll need to employ every tool in your toolbox to make yourself known — social media and SEO are a good start.
Here When You Need Us
Have questions? Looking for more expertise? Ready to take the next step?